Posted on
Thu, Sep 30, 2010 : 11:14 a.m.
Andrew Shirvell vs. Chris Armstrong, part of a back story to the conflict
By Edward Vielmetti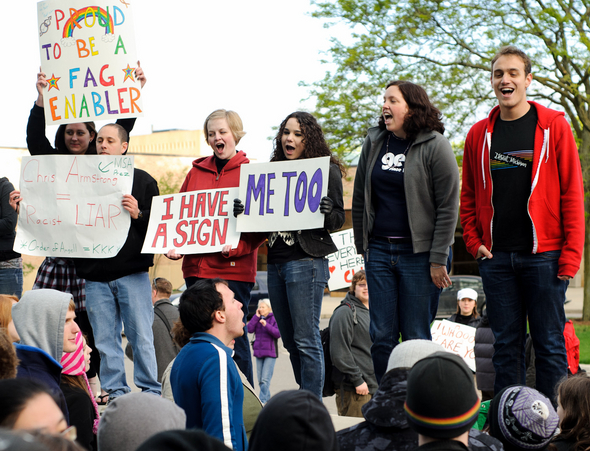 Courtesy Chris Dzombak
Recent news attention has focused on Michigan assistant attorney general Andrew Shirvell's one-man campaign against University of Michigan Student Assembly president Chris Armstrong.
With any story there is some kind of back story, and most news headlines don't give you that back story. Here's some attempt at putting this conflict in the context of other actions and activities in the Ann Arbor area, based on the written and photographic record that mostly existed before it hit the media full force.


Shirvell vs. Armstrong at Laramie Project protest
The best photographic evidence of conflict between Shirvell and Armstrong is at the protest held earlier this year at the performance of the Laramie Project. A set of protesters from the notorious Westboro Baptist Church had announced their intent to show up, and a counterprotest was organized. Westboro didn't show up, but one lone man did protest the play: Andrew Shirvell.
Contemporary news coverage of that event:
Laramie Project event calendar listing, AnnArbor.com
AnnArbor.com story by Erica Hobbs, "Gay rights activists rally."
Between The Lines account of the conflict between Shirvell and Armstrong: "Shirvell's latest anti-gay heckling of UM student president Armstrong at the May 8 rally was met with calls for ignoring him. Some, however, didn't. Washtenaw County Commissioner Jeff Irwin, who is running for state representative in his district, called Shirvell a "bozo" at the event and attempted to take his poster, which read "Chris Armstrong = Racist LIAR" and reported Armstrong's affiliation with the Order of Angell, a by-invitation-only honors society at UM."


The sign: 'Order of Angell = KKK' held by Andrew Shirvell
The sign that Shirvell holds at the event equates the Order of Angell with the KKK.
If you are not familiar with U-M secret societies, the Order of Angell is the new name for Michigamua, a long-standing secret group which was banished from the tower of the Michigan Union and forced to change its name after proven allegations of the use of Native American artifacts caused embarrassment for the group and for senior leadership at the university.
As the Order of Angell, the group publishes its membership list, so it's not secret any more. Armstrong is a member. But as the comments on the Michigan Daily's story about that list show, the group is a flashpoint for long-standing resentment at the university on racial matters.
More about the Order of Angell
Edward Vielmetti was never invited into Michigamua while at the University of Michigan. Reach him at edwardvielmetti@annarbor.com.