Posted on
Mon, Apr 19, 2010 : 10:30 a.m.
Bird watching along the Huron River
By Edward Vielmetti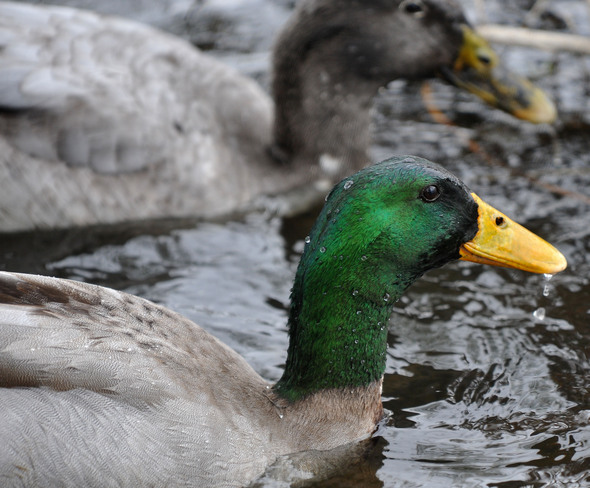 Mark Bialek for AnnArbor.com
More than 200 species of birds make their home for some part of the year in Ann Arbor and Washtenaw County. Many resources are available to help you build a life list of species you have seen or just to figure out what you're looking at.
Here's some start at helping you find birding guides for the area. You don't need a license to look for birds, but a good reference guide will help you orient yourself to what birds are in the area, what time of year they are likely to show up, in what habitat to find them and how to tell them apart.
Nichols Arboretum
Bruce Bowman has a comprehensive collection of local birding information, with detailed reports and checklists for birding around the area and around the region. If you want one spot to go for birding information in the area, this is the place.
A highlight of the collection is a birding list for the Nichols Arboretum, maintained and updated regularly. From the introduction:
Nichols Arboretum is probably the single best birding site in Washtenaw County, and it should be on any southeast Michigan birder's list of high-priority birding locations, especially for spring passerine migration. "The Arb," as it is called by most birders and other regular visitors, has 123 acres of varied habitat in a setting with an elevation change of 270 feet. Its size and breadth of character, a breadth not diminished by the Huron River, which bounds the Arb on the north, account for the diversity of avian wildlife that may be found here. The river boundary is over eight-tenths of a mile long. The Arb's natural areas together with its considerable assortment of botanical collections make it a place enjoyed by visitors of all feather.
Local bird watching guides
Two books are in print with good and thorough coverage of birds in the area. If you need to carry a book with you when you go, one of these will provide some level of detailed knowledge of local conditions.
• The Birds of Washtenaw County, Michigan, University of Michigan Press, 1992, by Michael A. Kielb, John M. Swales, and Richard A. Wolinski. From the back cover:
Frequency accounts of the 267 species recorded in the county during the last 15 years are framed by a discussion of the topographical history of the county. In addition, the authors present notes on another 30 species not seen in the county since 1976. A comprehensive site guide offers suggestions of the optimal locales and times to try to find the birds.
• The Birds of Dearborn: An Annotated Checklist, Lulu, 2007), by Julie A. Craves is a guide to birding in Wayne County and on the Rouge River. From the introduction:
This book, The Birds of Dearborn, An Annotated Checklist, represents essentially an entirely new publication [following The Birds of Southeast Michigan: Dearborn, Wayne County (1996)]. Many of the original 50,000 records that were compiled for The Birds of Southeast Michigan got a second look. If the documentation for a sighting wasn't convincing, given another decade of experience with local birds, the record was set aside. Historical records were re-evaluated, which included examination of maps not previously accessed and another search of old literature and unpublished material. Thousands of additional bird sightings and nearly 5,000 new banding records were added to the mix.
Birding groups and societies
The Washtenaw Audobon Society hosts monthly programs on a variety of natural history topics. These programs are open to the public and are held at the University of Michigan Matthaei Botanical Gardens, 1800 N. Dixboro Road, Ann Arbor, on the third Wednesday of every month, except July, August and December. Programs generally start at 7:30 p.m. Refreshments follow the program. Membership information is available at the monthly programs.
Domesticated birds
If your preferences run to domesticated birds, you should note the Ann Arbor Companion Bird Club, where you can find birds of a feather to share your interests in parrots, parakeets, and other companion birds.
Collective nouns for birds
A short list of ways to refer to collections of birds, referencing in part Bruce Bowman's rejected entry to a contest for such names. Would you believe "a gallon of petrels," "a cord of wood-warblers," or "a stool of pigeons"? Perhaps not.
Edward Vielmetti reads a forest of blogs for AnnArbor.com .