Eat well at any deli by making your own sandwich
Posted on Sat, Jan 2, 2010 : 7 a.m.
You're going into that world-class deli and you don't have the appetite, or the wallet, to enjoy a $12 sandwich. What do you do?
Here's a recipe for eating well at any deli worth its name and a sure recipe for getting that sandwich price and size down. The secret is to buy the parts separately and assemble them yourself.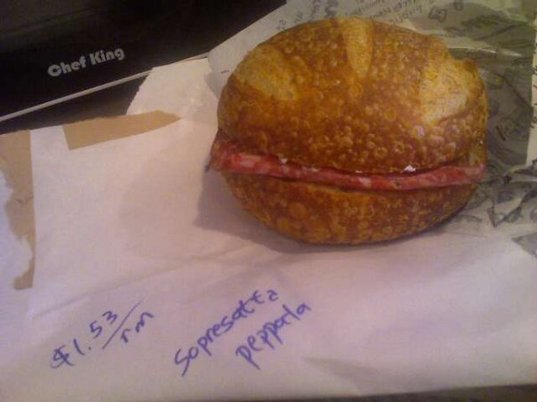 Courtesy of Patrick Haggood
First, go to the bread counter. Ask for a roll of your liking, sliced. Copernicus has a very nice Polish roll for $0.50, and Morgan and York sold me a New Yorker roll from Mill Pond Bakery for $1.50. You'll know that you are at a real deli when you can get one roll and not a whole bag of them, and if they will slice it for you happily even if there's only one that you're buying - you may pay more per each for a single than you would for a dozen, but the objective here is to eat one sandwich, not a dozen. 
Next, go to the deli counter. Any good deli will happily sell you a few slices of your favorite meat or cheese by the pound, and if you're only getting two or three slices even the fancier styles don't cost you very much. $1 worth of a $8 per pound cheese is 2 ounces, more than enough to give you a tasty sandwich but not so much that you have to strain your jaw to bite into it. Be sure to ask the deli person what they would recommend to go with the roll, and don't be shy to ask for samples if you're not sure. 
Condiments may be a challenge, though again the better delis will be happy to put together a little something for you to spread on your sandwich yourself. You'll get your money's worth with a discussion at the deli counter at
Zingerman's
about the best $0.50 worth of pickles that go with that cheese as the hurried and hungry lunch crowd waits in line for their numbered sandwich.
This process works equally well, with a bit of creativity, at any place with a hot bar or salad bar that has enough ingredients. 
Walk that Polish roll from Copernicus down to By The Pound in South Main Market and assemble your own chicken salad sandwich, or go to Cafe Verde and buy two slices of bread and spread them with hummus from the salad bar, with one apple purchased in bulk as a crunchy dessert. 
So buy all the parts separately, unwrap them at your table, assemble them yourself and enjoy. If you act with confidence at the deli counter, you will let it be known that this is not simply an act of frugality. Rather, you are seeking to understand, one slice of liverwurst carefully paired with a quarter's worth of pickles at a time, just which flavors go together to make a remarkable sandwich.