Posted on
Tue, Sep 14, 2010 : 10:55 a.m.
Garden Links: first frost in Michigan - think now about how to cover your tomatoes
By Edward Vielmetti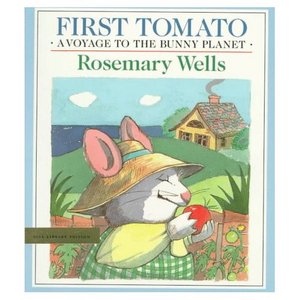 "First Tomato", Rosemary Wells. Published by Dial, 1992.
It's not too soon to be preparing for the first frost of the season here in Ann Arbor. The first frost of the season in Michigan was reported by Birdie Davis on Petticoat Lake near Michigamme in Baraga County on Sept. 10, according to WLUC TV-6 meteorologist Phil Decastro. The National Weather Service has issued frost warnings for other parts of the Upper Peninsula, and there is likely to be frost tonight up north in the western part of the Upper Peninsula.
Here's a set of links for first frost information. You never know when it will actually happen, but clear, cold nights and day that get ever shorter are all good signs that it's time to harvest or cover your tomatoes.
I write about this every year, which gives a good perspective on what kind of technology you can look at to help figure out both how to predict the first frost event as well as how to cope with it and not let it ruin your tomato harvest.


Historical measurements of first frost
Climatologists always have a hard time with precise measurements of first frost times. The more observations you have, the better, in part because frost formation is very localized in such a way that one part of a field or garden can get frosty and the other part won't.
The Farmer's Almanac characterizes temperatures below freezing as follows: 29-32 degrees Fahrenheit is a "light freeze," killing tender plants; 25-28 degrees is a "moderate freeze," widely destructive to most vegetation. Below 25 degrees wipes out everything that's not an evergreen.
At 33 degrees, your tomatoes are cold, but fine. At 29 degrees, your tomatoes are in trouble. Providing a few extra degrees of warmth for the first cold nights of the year can get you a few extra weeks of growing time.
Links


Save the tomatoes!
There are lots of ways to extend your tomato season. Here are just a few suggestions, drawn from links below.
If you have tomatoes in hanging baskets, move the baskets inside or to your garage.
Fill an empty milk jug or oil can full of warm water and place it in the sun next to your tomatoes; it will radiate heat overnight. This comes via Mr. Francis Handwa of Zimbabwe, as quoted on Farm Radio International.
Cover your tomatoes with lightweight plastic bags, so that you capture the heat from the earth radiating upwards.
Run your sprinkler on the tomatoes, so that instead of getting frost you get a cold mist on them. Frost will get colder than 32 degrees, but water will not, and you'll be in better shape.
Pick tomatoes early, and enjoy recipes for green tomatoes or ripen them off the vine.
Build a hoop house, which extends the growing season.


Previous year's tomatoes
Every year around this time, I look for a spike of traffic to the various things I've written over the years about the time of the first frost. The search traffic, viewed through the lens of Google Analytics and Google Trends, is a sign of what people are interested in and what the weather is like.
Links to previous years coverage:
Edward Vielmetti watches winter come down from the north for AnnArbor.com. Contact him at edwardvielmetti@annarbor.com.