Posted on
Sun, Feb 20, 2011 : 9:15 a.m.
Ice storm is on its way; map from the National Hydrometeorological Prediction Center
By Edward Vielmetti
The National Hydrometeorological Prediction Center's winter weather forecasts have detailed probability maps of severe weather. Here's one of the current ice storm forecasts, showing the likelihood of more than a quarter inch of ice.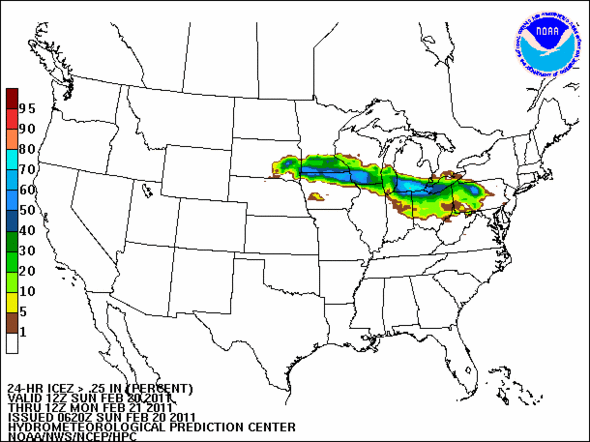 National Hydrometeorological Center
The full forecast, from 4:33 a.m. on Sunday, in all of its technical detail; I've edited only to decode abbreviations and move it out of all upper case.
Heavy snow is expected to occur along the track of a 700 mb low, forecast to progress out of Wyoming into South Dakota today. Snow develops in the zone of mid level theta-e advection and upper divergence maximum downstream across South Dakota, southern Minnesota, Wisconsin, and western Lower Michigan, which overlaps 850-500 mb frontogenesis in the area. The 00Z models and 06Z HPC QPFS support over an inch in the east center South Dakota / west central Minnesota, where the highest threat of 12+ inches of snow is depicted. The mid-level warm advection and embedded convective elements across southeast South Dakota / Iowa into southern Minnesota, northern Illinois, and southern Wisconsin leads to a precipitation type change over to sleet and freezing rain just north of the surface low track through the midwest, per the NAM/ECMWF thermal profiles. Desk output indicates (?) of a quarter to half inch liquid equivalent occurs as freezing rain, warranting a slight/moderate risk along the Iowa/Minnesota, Wisconsin/Illinois and Indiana/Michigan state lines.
If you want to decode more of these forecasts yourself, I found this National Weather Service forecast jargon list to be helpful.
Edward Vielmetti collects maps and scrapes ice off windshields for AnnArbor.com.