Posted on
Mon, Mar 7, 2011 : 10:39 a.m.
Paczki Day 2011 - made locally, or imported from Hamtramck
By Edward Vielmetti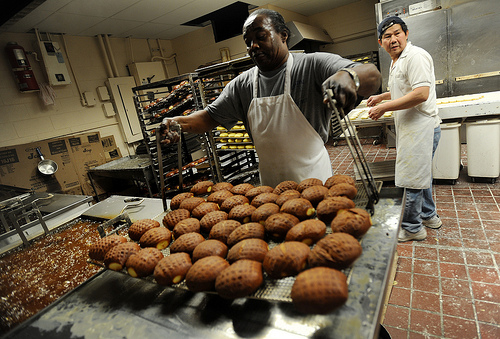 Melanie Maxwell | AnnArbor.com
Tuesday is Paczki Day, the local celebration of pre-Lenten excess based around the consumption of fat, jelly-filled Polish pastries.
My 2010 Paczki Day guide was pretty good, and most of it is still true, so I won't repeat myself too much. Here's some notes on what is new this year in paczki production and consumption. The Arborwiki paczki page is another good source of detail.
Imported from Hamtramck
Wise Guys in Ann Arbor, a tiny store on Packard at Woodlawn better known for its late night weekend Chicago dogs, is importing paczki from their favorite bakery in Hamtramck. They will be bringing in traditional flavors, including the elusive prune (plum) paczki, not something that your typical donut-maker has in stock.
Made in Ann Arbor, after 18 years of saying "no"
Zingerman's Bakehouse is making paczki this year, after 18 years of telling their customers that they don't have them. They will have 100 for sale at the store; you missed the pre-order period, but file this away for next year. Fillings include the traditional prune as well as a rose hip jam.
Zingerman's shares a secret to paczki dough — a little Spiritus, the clear Polish grain alcohol, is mixed into the dough.
Field trip to Hamtramck
The Polish Muslims are a band who have been playing Paczki Day celebrations for the last 28 years. They will be playing at the New Dodge Bar at 10:30 a.m., at Whiskey in a Jar at 2:30 p.m., and at Post 10 at 6:30 p.m., all in Hamtramck.
The Hamtramck Review has a complete run-down of events in that city, located about 45 minutes east of Ann Arbor in an enclave of Detroit.
Here are the Polish Muslims, in an undated clip from the short-lived early 1980s afternoon show Good Afternoon Detroit on WXYZ. News anchor John Kelly introduces the group, saying that "the group polkas to a beat of a different accordion."
Edward Vielmetti celebrates religious feast days for AnnArbor.com.