Posted on
Thu, Dec 10, 2009 : 1 p.m.
Mapping Wednesday night's power outage in Ann Arbor
By Edward Vielmetti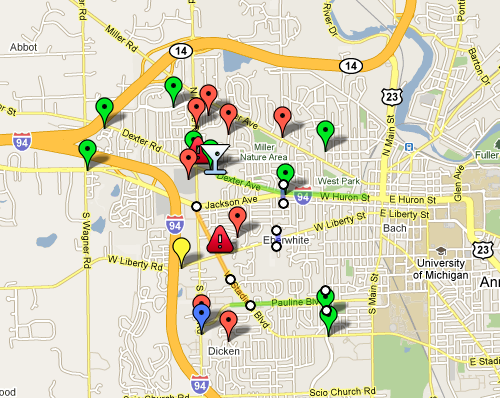 When the power goes out, no one has a complete idea of where all of the problems are - there's always a bit of confusion in the world where the lights are out. Now that almost all of the lights are back on, there's time to write this story up.
This map was put together the night of December 9, 2009 after the power outage that hit the west side of Ann Arbor; here's how I did it. Click through to view the full original map.
Technology
The first piece of doing a collaborative map is finding a good base map to work within. Google Maps is the best I've seen so far, though not the only way to do it; with that system you set up a map and then mark it as shared so that anyone can collaborate. Google has more directions and a short tutorial to help you get started.
Before you send this out to the world, you should do your homework. I went through the 30 or so comments that had come in on our first story and put pins and lines on the map to get a first step at what the outages look like. From the very start I used a set of color coding conventions - red for out, green for on - so that you could look at things and see at a glance what the status was. It's always easiest for people to add to something that looks like it's already real, even if it's obviously not complete.
After the first dozen placemarks were put in, I announced the map on a couple of sources - links on the pages where the most comments were coming in, links posted to Twitter and Facebook, and an email to one of the lists I run. To make it easier to look at the link I created a short URL using the bit.ly service, which takes the very long URL that comes from Google Maps and makes it short enough to read in an environment like Twitter where you only have a few characters of text to use.
Cooperation
Once the word gets out, the fun begins. Because it's an open collaboration map, anyone can update things, and they don't necessarily have to share the same structure that you do. I started with two colors, but quickly a third color emerged (orange) to mark locations where power was half-on, half out. And, because the map reflects a situation that changes, collaborators can updated things that change, like showing that power was out at a location but that now its back on.
By morning, all but a few hundred people in the affected area had their power restored, so I've frozen the map.
When things are much worse
This has been done on a much larger scale before, during natural disasters - generally the test has been hurricanes, where maps of evacuation routes and flooding and other things you would need to know when tracking the progress of a moving storm can be helpful. The Hurricane Wiki springs into action for any major storm, and this interview with NPR correspondent Andy Carvin goes into some good detail about using maps as a part of an online disaster response.
On the move
Another piece that's worth noting is that figuring out how to update the site based on information coming in from mobile phones is really important. Twitter does the best work here, since it can work on even the simplest phone through SMS; it lets people send in details that someone better networked can update.
We have had some reports of problems viewing the AnnArbor.com site on mobile devices, so there's some details we need to look at.
Facebook didn't help so much on this event, in part because it didn't last long enough and wasn't widely geographically distributed enough to take advantage of the network effects that you get from that.
Edward Vielmetti reads the comments that people write in to AnnArbor.com and tries, when appropriate, to turn them back into news. You can reach him by commenting on this article, by email to edwardvielmetti@annarbor.com, or by telephone at 734-330-2465.