Posted on
Wed, Jul 28, 2010 : 11:15 a.m.
Michigan oil spill links: Pipeline accident fills Kalamazoo River with toxic crud
By Edward Vielmetti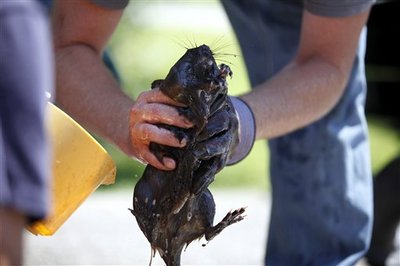 AP Photo | The Kalamazoo Gazette, Jonathon Gruenke
More than 850,000 gallons of oil from a pipeline operated by Enbridge Energy Partners spilled into Talmadge Creek near Marshall on Monday. The spill continued downstream into the Kalamazoo River, and it has been fouling birds and wildlife, smelling up the air, poisoning the water, and creating a hazard to people who live nearby. Governor Jennifer Granholm has issued a state of emergency for the area.
The Michigan Department of Natural Resources and Environment reports that the spill has reached Morrow Pond, just east of the city of Kalamazoo, this morning: "Cleanup crews believe the pond is where they will be able to corral and stop the flow of oil down the river." If they don't, the spill will continue downstream toward Otsego, Allegan, Saugatuck and Douglas before entering Lake Michigan.


News headlines
I've put together a roundup of news stories, starting local to the spill, going downstream, and then hitting state, national, and industry stories.
The best real time source for news story aggregation is the #riveroil tag on Twitter, where more 100 contributors have posted more than 200 links to stories in the past two days.
Some, but not all, of the stories also get aggregated by news aggregators like Google Finance. Story tracking is complicated by the complicated corporate structure of Enbridge; if you are tracking by ticker symbol, look for EEP, EEQÂ and ENB, which all trade to hold some portion of the assets of the firm. Enbridge is based in Canada, with a U.S. subsidiary and a separate subsidiary that is responsible for pipeline management.
Marshall: The Marshall Mirror claims to be "Your local source for online news"; it has nothing on the story. The City of Marshall web page has no first page information about the event. The Facebook page for Marshall Michigan has 3,000 fans but no news. The Marshall Chronicle is the latest newspaper I can find in that town, but it apparently changed hands at some point and became the Marshall Advisor and Chronicle; the Advisor and Chronicle's blog was last updated in April 2009.
Battle Creek: The Battle Creek Enquirer is reporting on oil spill news. The morning's lead story: "Granholm slams Enbridge on spreading oil spill," written by Sarah Lambert: "Gov. Jennifer Granholm on Tuesday hammered a company responsible for an 819,000-gallon oil spill near Marshall as the crude continued to flow westward along the Kalamazoo River, and government officials and company workers attempted to stop the disaster from spreading."
Kalamazoo: The Kalamazoo Gazette is reporting on oil spill news:Â "Kalamazoo County officials said they began an emergency response at about 6 p.m. Monday after news spread that a 30-inch oil pipeline in Marshall sprung a leak and released oil into the Talmadge Creek, which feeds into the Kalamazoo River."
Michigan Messenger: The Messenger filed a story Tuesday evening, "Michigan oil spill a replay of Gulf spill?," noting that reporter Todd Heywood was turned away from the Ceresco Dam by Enbridge employees: "A sheriff's deputy on the scene confirmed that he was not allowed to take pictures there of the oil spill or the wildlife. He then went to the Enbridge command center and was told by Enbridge spokesperson Lorraine Grymala that he would have to go to the Calhoun County Sheriff to talk to them about it."
Detroit Free Press: "Oil spill near Kalamazoo River causes stench, mess;" "Obama briefed; Granholm tours, calls for more resources."
Detroit News: "Crews rush to contain massive oil spill in Kalamazoo River"Â photo caption: "Workers try to clean up oil from an underground leak south of Marshall. Tuesday night, an energy company official said the sheen and smell were evident as far west as the Galesburg area."
Chicago Tribune: No headlines in the online Chicago Tribune of Wednesday a.m.


Maps of the affected area
Good mapping is essential to disaster response.
The Kalamazoo Gazette map shows the spill as of Tuesday afternoon. It's from the Gazette's summary of oil spill news to date:Â "Kalamazoo County officials said they began an emergency response at about 6 p.m. Monday after news spread that a 30-inch oil pipeline in Marshall sprung a leak and released oil into the Talmadge Creek, which feeds into the Kalamazoo River."
The Battle Creek Enquirer's map also is current to Tuesday afternoon. It's from the Enquirer's summary of oil spill news to date.
Enbridge, the company which runs the pipeline, has a pipeline map library which shows schematic and not detailed locations of pipelines. The official Enbridge response site has a map as well, showing pumping stations in Marshall, Stockbridge and Howell as the closest ones.
The National Pipeline Mapping System has a public viewer showing pipeline routes on a county-by-county basis nationwide.
The State of Michigan has a set of Michigan pipeline maps. The petroleum pipeline map dates from 1990 and does not list the pipeline that just failed.
Pipeline locations are sensitive information, and therefore details are restricted. This information about maps of Unusually Sensitive Areas would have been very useful to create some informative assessment of the risk to public safety from oil spills contaminating drinking water, but access has been restricted:
The Pipeline and Hazardous Materials Safety Administration (PHMSA) has discontinued providing open access to the National Pipeline Mapping System. Recent events have focused additional security concerns on critical infrastructure systems. Due to these concerns, PHMSA no longer provides unlimited access to the Internet mapping application, pipeline data, and drinking water Unusually Sensitive Area data. PHMSA is committed to providing pipeline related data to pipeline operators complying with integrity management programs and to community officials.


The local perspective
Two questions immediately come to mind with a spill like this. What is the risk in Washtenaw County for a spill like this, and how would you respond?
The pipeline map from Enbridge shows that this line doesn't go through Washtenaw County, but its path through Stockbridge and Howell takes it within range of the Huron River watershed. There are other pipelines that go through the county, carrying similar products. So it could happen here.
The published Washtenaw County Emergency Management Risk Assessment lists "Petroleum and Natural Gas Pipeline Accidents" at 10 on a list of 22 risks, with "Hazardous Materials Incidents: Transportation" at 2. "Nuclear attack" is 9; "Convective Weather (Severe Winds, Lightning, Tornados, Hailstorms)" is 1.
TTFL On the Scene; Enbridge Oil Spill, Kalamazoo / Marshall Michigan from Aaron Fown on Vimeo.
Edward Vielmetti is the Lead Blogger for AnnArbor.com. Contact him at edwardvielmetti@annarbor.com.