Posted on
Thu, Sep 23, 2010 : 11:40 a.m.
Pittsfield Township in maps, east of US-23, north of I-94
By Edward Vielmetti
Four county governments are looking at a new taxing authority to develop the Washtenaw Avenue corridor, in part because there are so many government units which each oversee a small slice of Washtenaw that it's hard to have one cohesive plan for the area.
If you live in Ann Arbor and you're heading to Ypsilanti, it's not always clear where the boundaries are. More to the point, it's not clear to anyone once you go past US-23 where Ann Arbor ends and where Ypsilanti begins.
Here's an exploration, done mostly in maps, of the section of Pittsfield Township that's located between Ann Arbor and Ypsilanti. You'll see some of the various bits of confusion reflected in map form that explain why the space between the two cities need to be treated as a place of its own.
Basic information and street maps
Courtesy Pittsfield Charter Township
Our area of focus is Pittsfield Township east of Ann Arbor and US-23, south of Ann Arbor Township and Clark Road, west of Ypsilanti Township and Golfside Road, and north of I-94. Ellsworth Road is near the southern boundary of the area of interest.
All locations described have Pittsfield Township taxes and Ann Arbor schools; some have Ann Arbor addresses, and others have Ypsilanti addresses. Some of the water in this part of the world drains north to the Huron River; other water drains run south to Paint Creek.
Links
Transit and transportation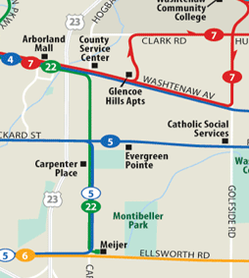 Courtesy Ann Arbor Transportation Authority
Major east-west transit through this area are the Washtenaw (#4 bus), Packard (#5 bus), and Ellsworth (#6) bus routes. North-South Connector (#22 bus) goes through the area on Carpenter Road, and the #7 bus serves a portion but not all of Golfside Road.
Links
Mailing addresses in three zip codes
If you try to make sense of the area through the zip code map, you get a mish mosh that doesn't make any sense. Parts of the area are served by the Ypsilanti post office, and other parts are served by two different Ann Arbor zip codes. The upper corner shows the Hogback Officenter, an office park with a 48105 zip code. If you oversimplify, you get the conclusion that single family homes are in an Ann Arbor zip code and apartment complexes are in an Ypsilanti zip code.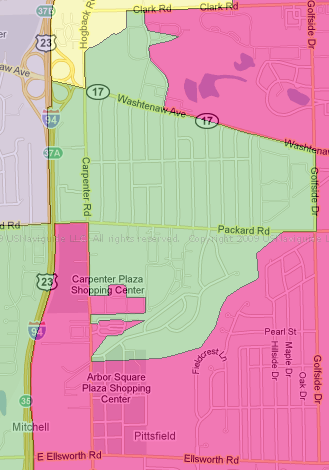 Zip Code information on this map as of January, 2010. Source: USNaviguide LLC.
Links:
School systems
The entire area is served by the Ann Arbor Public Schools. The district map shown indicates one neighborhood school, Carpenter Elementary School, where kids who live nearby can walk to. Other students are bused to Angell, Burns Park, Pittsfield or Mitchell elementary schools.
The Ann Arbor Public Schools borders the Ypsilanti Public School District at Golfside, and Ypsilanti High School is relatively close by. Ypsilanti is a "schools of choice" district.
Boundaries provided by Ann Arbor Public Schools.
Voting maps
Voting precinct maps here are actually a bit more sane than the other maps, since they describe continguous areas. Four Pittsfield precincts are in the area in question, here described north to south.
Pittsfield Precinct 4 is between Clark and Washtenaw Roads and votes on Packard at Catholic Social Services. Students in Precinct 4 are all bused to Ann Arbor schools that are located near the center of Ann Arbor, either Burns Park or Angell. It is notable that the polling place is located on AATA Route 5, which does not connect directly to any of the AATA routes that serve the precinct area; this makes it all that much harder for voters who are using public transportation to get to the polls by bus.
Pittsfield Precinct 2 is between Washtenaw and Packard and votes at Carpenter School, which is located in the precinct area. Many students in the precinct can walk to the school.
Pittsfiled Precinct 11 is south of Packard, and north of the old railroad grade, bounded by Ellsworth Road at the south. Most of the students in the precinct would go to Carpenter School, but residents of the Coachville Gardens trailer park are bused to nearby Pittsfield School.
Pittsfield Precinct 3 is south of the old railroad grade and north of the freeway. Students are split between Carpenter and Pittsfield.
Courtesy Pittsfield Charter Township
Links

Historic maps
The layout of the roads through this area has not always been the same. The 1874 map shows a railroad running along a grade that is now a power line bisecting the township. The line, known by a variety of names depending on which organization plucked it out of bankruptcy last, ran from Ypsilanti to near Hillsdale, and was eventually absorbed into the New York Central system before being shut down in the area in question. The grade is still visible and in use as a power line corridor.
Old maps show a "Carpenter's Corners" name at the corner of Carpenter and Packard; I haven't found a comprehensive narrative that talks about that place and how it has evolved over time.
Links
Edward Vielmetti gets lost close to home for AnnArbor.com. Send him your favorite unpublished maps of the area at edwardvielmetti@annarbor.com