Posted on
Mon, Mar 22, 2010 : 11 a.m.
Exploring raw milk controversies in other states
By Edward Vielmetti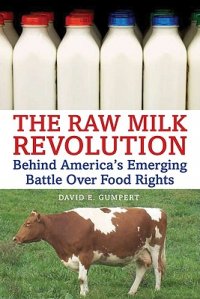 David Gumpert's "Raw Milk Revolution", Chelsea Green Publishing 2009
Raw milk was in the news last week, with an outbreak of Campylobacter
linked to milk from an Indiana farm
 that sickened four local people. Today's link roundup looks at the debate over raw milk.
In British Columbia, Canada, a cooperative is defying orders from the provincial government to halt distribution of raw milk. "B.C. farm defies court ruling on raw milk," writes CBC News on Sunday, with the Supreme Court of British Columbia ruling that Home on The Range co-op in Chilliwack is "willfully causing a health hazard" by supplying its members with unpasteurized milk.
The Seattle Times reviews the raw milk controversy in Washington state, noting that there are 28 licensed raw milk dairies in the state. The author, staff reporter Maureen O'Hagan, writes "There's long been a libertarian streak running through the raw-milk crowd. A Christian one, too. Now it's attracting another demographic entirely: advocates of local food."Â 
Hundreds of supporters of raw milk packed hearings in Eau Claire, Wisc., where the Milwaukee Journal-Sentinel reports that legislation to allow the sale of raw farm milk to the general public in that state is moving forward. The state is considering rules that would allow on-farm sales of unpasteurized milk, with regulations to require monthly testing of the milk and restrictions on advertising and marketing.
Forest Grove Dairy in Middlebury, Indiana is the dairy associated with the outbreak of Campylobacter linked to raw milk distributed by Family Farms' Cooperative of Vandalia. The Forest Grove Dairy received a warning letter from the Food and Drug Adminstration in 2007 warning it of violations of federal code. The letter on the FDA's site references 21 CFR 1240.61 on the mandatory pasteurization of milk delivered into interstate commerce; redactions in the original.
"The regulation prohibits the delivery into interstate commerce of [redacted] and [redacted] in final package form for direct human consumption unless they have been pasteurized. The [redacted] and [redacted] you produce in [redacted] and distribute to [redacted] and [redacted] for further distribution to their [redacted] is in final package form for direct human consumption."
A bill was introduced by Ron Paul (R-Texas), HR 778, "To authorize the interstate traffic of unpasteurized milk and milk products that are packaged for direct human consumption." In comments to the House floor in January 2009, the sponsor wrote "I urge my colleagues to join me in promoting consumers' rights, the original intent of the Constitution, and federalism by cosponsoring my legislation to allow the interstate shipment of unpasteurized milk and milk products for human consumption." The bill was referred to committee and did not get a second sponsor.
The Weston A. Price Foundation is a leading advocate for raw milk, with its Campaign for Real Milk organizing information for consumers on getting access to raw milk.
Bill Marler, an attorney who turned a lawsuit against Odwalla's sale of unpasteurized orange juice into a thriving practice in food safety law, writes about the Campylobacter outbreak in Michigan, with plenty of references to previous unsafe milk incidents.
David Gumpert, author of The Raw Milk Revolution (White River Junction, Vt.: Chelsea Green Pub., 2009) responds to Marler on his own blog with an account of how Family Farms' Cooperative responded to the latest outbreak:Â 
"As soon as Hebron learned the news late last week, he went public with members, first alerting them via email of the possibility that herdshare raw milk might be the culprit, then halting milk deliveries, and next doing extensive testing of both the dairy's milk and its water sources. In addition, the herdshare has been in contact with local public health authorities, providing them with the lab testing data."Â 
Gumpert, a journalist and business writer, has emerged as a leading advocate for raw milk.
Edward Vielmetti writes for AnnArbor.com. Reach him at 734-330-2465.