Posted on
Mon, Jun 28, 2010 : 11 a.m.
Scholarly links: Microsoft Academic Search challenges Google Scholar
By Edward Vielmetti
Microsoft has released Microsoft Academic Search, a newly updated search engine specifically for scholarly publications in the field of computer science. Developed by Microsoft Asia, it is designed to help that company refine its work in developing search engines within a narrow field of specialty. The Microsoft Academic Twitter account allows you to follow current activity.
Google has a search engine with similar goals, called Google Scholar. Both sites allow a focus on a narrow area of the network and allow the searcher to take advantage of some of the structure in formal publications to assist in finding links between related items and assessing their relative performance. Google Scholar does not have a specific narrow focus on computer science, so the comparison will not be exact, but it's worth looking at similar searches on both indexes to compare and contrast their relative results. I'll be looking for local information in both cases.


Microsoft Academic Search: ann arbor
The first search I run on any new search engine is "Ann Arbor". The results of a Microsoft Academic Search for "Ann Arbor" is interesting.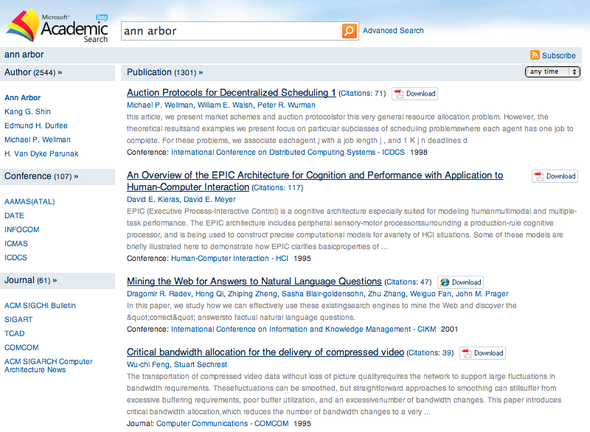 Courtesy Microsoft Academic Search
The page is laid out with search results in the middle, and ways to refine the search on the left hand side.
Four authors - Kang G. Shin, Edmund H. Durfee, Michael P. Wellman, and H. Van Dyke Parunak come up on the top of the authors list for the "Ann Arbor" search.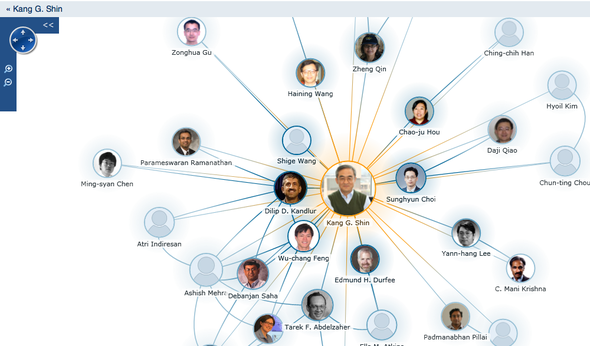 Microsoft Academic Explorer
The system also allows you to embed search results into your articles. Here's my one publication in the database:
[Loading...]
This publication list is generated by Microsoft Academic Search®, please visit
Microsoft Academic Search
for more info. Please check
here
for terms of use.


A comparison with Google Scholar
A comparison of a similar search for Ann Arbor in Google Scholar is instructive.
The top search results of the more than 1.1 million returned in a search for Ann Arbor is Regional landscape ecosystems of Michigan, Minnesota, and Wisconsin (ZIP), which is:
"Albert, Dennis A. 1995. Regional landscape ecosystems of Michigan, Minnesota, and Wisconsin: a working map and classification. Gen. Tech. Rep. NC-178. St. Paul, MN: U.S. Department of Agriculture, Forest Service, North Central Forest Experiment Station. 250 pp."
Google Scholar sorts results by the number of citations that a publication receives; the Albert paper has 238 citations, putting it at the top of the list.
Unlike Microsoft's academic search, which focuses on computer science, Google takes on all of academia. This is good, or bad, depending on your preferences for things you are interested in. Google Scholar does have an option to search through legal opinions and case law, which is out of scope of this discussion but very handy in general for looking things up.


Every search engine is a little different
The biggest challenge in these enormous specialized databases is figuring out whether it's relevant to the search you are trying to do. If it happens to be the case that your work intersects with the focus of the database, it can be terrific. If the database is completely tangential to your interests, it can be irrelevant or distracting. The explosion of searchable information on the Internet means that you might have to search for where to search before you start searching.
Edward Vielmetti looks it up for AnnArbor.com.