Links:

Snow predictions from the Hydrometeorological Prediction Center

Posted on Mon, Jan 31, 2011 : 12:08 p.m.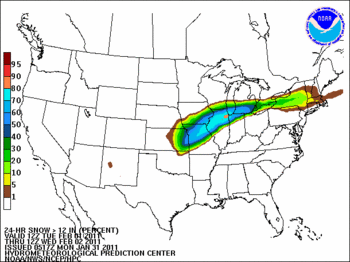 Hydrometeorological Prediction Center, NOAA
Snow is in the forecast for the Ann Arbor area. The current weather forecast on AnnArbor.com reads "Heavy accumulations of snow between 10 and 15 inches are possible... with most of this expected to fall Tuesday evening and overnight."
The National Weather Service's Hydrometeorological Prediction Center (HPC) in Camp Springs, Maryland has a winter weather desk, which creates two predictions a day looking into the future to predict snowfall. Each year they come up with something new to help visualize the computer models of winter storms. Here's a review of some of the graphics that are new to this weather season.
Where is the storm coming from?
Some winter storms are associated with low pressure areas. Forecasters model the paths of these storms in much the same way that they predict the tracks of hurricanes, and if you have ever watched a series of hurricane predictions, you know that from day to day the predictions shift. The map below shows the next 72 hours of this storm, with a solid line in black showing the preferred storm movement forecast and colored marks showing variations between forecast models.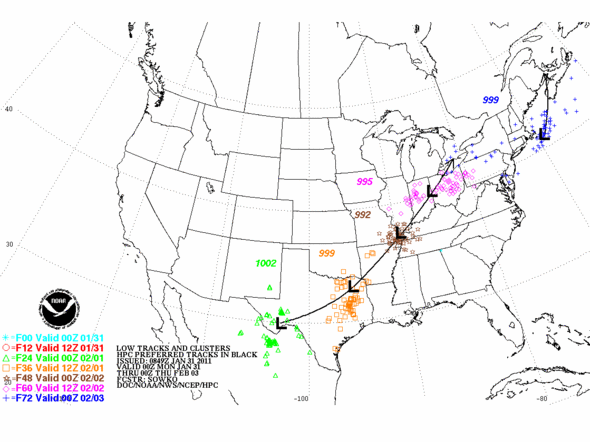 Hydrometeorological Prediction Center
How much snow are we likely to get each day?
The most compact presentation of upcoming weather is the composite chart provided by the HPC, showing in one image the chance of significant accumulations of snow and ice for the forecast day. The four images show the chances of accumulations of 4, 8, and 12 inches of snow, and the chance of 0.25 inches of ice. This chart shows the Tuesday forecast. Note that travelers heading south need to be wary of ice accumulations forecast across much of Ohio.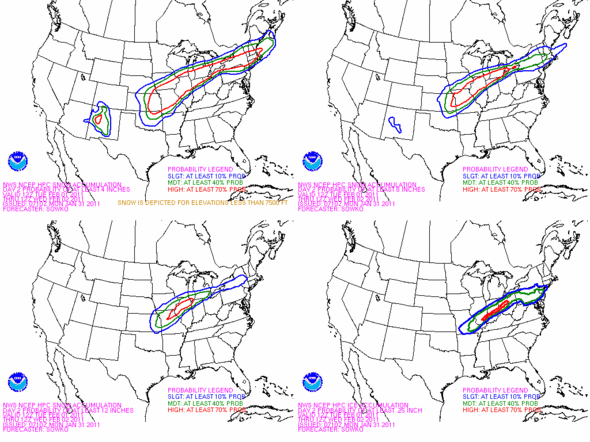 Hydrometeorological Prediction Center
Don't simplify it for me
The probabilistic heavy snow and ice discussion provided by the HPC is written by meteorologists for other meteorologists. I've translated a portion of it below, adding punctuation, changing it out of all capital letters and expanding some abbreviations.
As for the main system...a strong low level jet should develop ahead of the surface low and carry western Gulf of Mexico moisture into the lower Mississippi Valley and throw the moisture back across the Arctic airmass that will be in place across the central U.S. to the northeastern U.S. Strong deformation and an upper jet couplet combined with deep layer frontogenesis forcing will provide ample life while energetic southwesterly-westerly flow carries additional moisture through the Ohio valley into the northeast/northern mid Atlantic...with an axis of overrunning (?). This should support a swath of very significant ice accumulations from northeast Oklahoma to southern New England...and very heavy snow from the Central Plains/mid Mississippi Valley across to New England. Models remain in above average agreement regarding the scope of this event, indicating 0.5 to 1.0 inch of freezing rain centered from east central Missouri to west central Ohio, and well over a foot of snow from northern Missouri / northern Illinois to southern Michigan, with perhaps 2 feet across portions of Iowa / Illinois.
Simplify it for me