Posted on
Mon, Feb 28, 2011 : 9:33 a.m.
The Huron River runs through Ann Arbor in 1819
By Edward Vielmetti
Joseph Wampler | Bureau of Land Management
The Bureau of Land Management's General Land Office Records Automation web site has more than 5 million documents of land patents, survey notes, field notes and land status records dating back to 1810. The records are sorted by state and county and are searchable by name.
To do a thorough search for records for this area, it helps to know that Ann Arbor Township is recorded as Town 2 South, Range 6 East, in the Michigan-Toledo Strip meridian.
Links


Surveying Washtenaw County
Joseph Wampler, working out of the survey office in Chillicothe, Ohio, surveyed Ann Arbor Township in 1819. His work was approved by Edward Tiffin, Surveyor General, on Nov. 5, 1819.
Joseph Wampler (1783-1842) conducted early surveys of Washtenaw County and other counties in southern Michigan. His work was known to be appreciably more accurate than some of his contemporaries, and in some cases he was sent out to resurvey land which the original surveyor had botched. Wamplers Lake in Lenawee County is named after him.
The surveyor's notes on the Ann Arbor Township survey indicate the quality of the land along the survey line. "Rolling land, W & B Oak" is the boundary between section 28 and section 33; that line forms a part of today's Hill Street in Ann Arbor. "Level, thin land, W & B Oak" describes State Street near the University of Michigan campus.
Links

Map comparison
Almost 200 years of industrial activity has changed how the Huron River looks through Ann Arbor. Here is the Google Map image of the same location.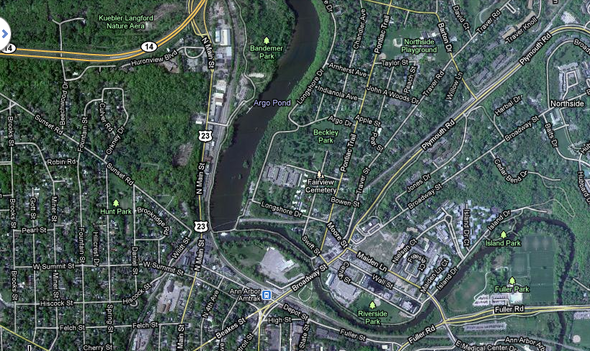 Google Maps