Posted on
Thu, Oct 28, 2010 : 11:30 a.m.
Waymarking, an international and local database of points of interest
By Edward Vielmetti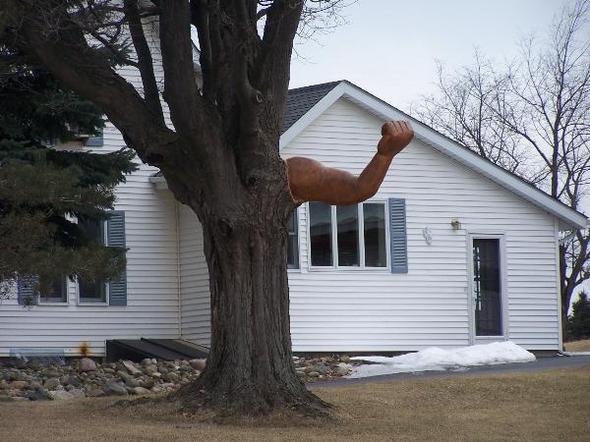 Courtesy Anne Hood
Waymarking.com is an international database of points of interest around the globe. The site has collected (as of this writing) 278,267 separate locations, each with precise coordinates, a photo or two and a brief description. Entries are categorized into one of 1,000 categories, each of which has been created in response to user interest.
The collection of Waymarking photos near Ann Arbor includes enough interesting and unusual documentation of the local landscape to merit further exploration; there are photos in hundreds of categories, with notes on any number of places worth a visit.


A bit about the business of geographical information
Waymarking is a commercial site. It's free to browse through, and you can register for a free account to let you add to it. A set of advanced features, including the ability to create and manage categories, is available to users who register and pay a $30/year annual fee. Paid subscribers can also access a set of features useful for outdoor sports like geocaching, including the ability to download waymarks into their handheld mapping devices.
Waymarking is only one of many companies scooping up geographical information about the world and turning into a product to be sold. Sites like Foursquare, Facebook's Facebook Places, Twitter's Twitter Places, and more others than I can count are interested in knowing where you are and what you see when you are there.
An article in TechCrunch calls for an open database of places, to be shared among a wide variety of services building on top of it. Places come and go, things change, and that up-to-date photo of a restaurant from 2009 is the historical relic in 2010 when the restaurant changes hands. Keeping track of the world is not easy.


Basic information available on Waymarking
Using Waymarking, you can look up a location and get a little bit of information — a photo, a few details and some reader comments. The base layer is all user-contributed, so the quality of the commentary is quite variable.
Each place is precisely geocoded, so you can also navigate through the category system and ask what's near whatever you are looking at and get some photos and stories to go with it. There are a lot of ordinary places in the world, and a lot of people who have collected information about them; where Waymarking is notable is its ability to create galleries of the unusual.


A catalog of the unusual
To illustrate, here are several categories where Waymarking has collected cultural artifacts in a way which I haven't otherwise seen.


Who does all of this stuff?
Many of the locations marked locally are from a single user of Waymarking, Anne Hood, who uses the profile name GT.US on the system. Their user profile describes the motivation:
"I waymark to help contribute to a complete inventory of the category that is being inventoried. I am not an expert in anything, just an ordinary person trying to help out where I can. The descriptions on the pages are mostly a result of internet searches I have done on whatever subject I am writing about. Please don't take anything I have posted as gospel, and do your own research on the subject using this as a starting point."
This is of course part of the bigger story of the Internet, of people who use free Internet systems to help them better understand the world around them. It's completely unpredictable what you get, but when you do it right, there are some wonderful results.
Edward Vielmetti explores previously undescribed categories of the local area for AnnArbor.com. Contact him at edwardvielmetti@annarbor.com.