Posted on
Mon, Nov 15, 2010 : noon
Where is all of that Library Lot dirt going?
By Edward Vielmetti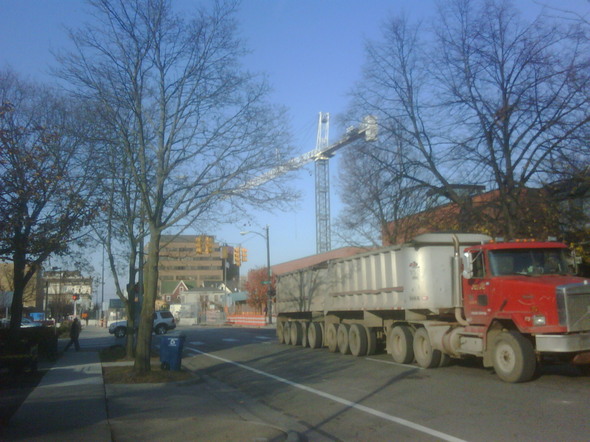 Edward Vielmetti | AnnArbor.com
You can't walk around the enormous hole beside the
Ann Arbor District Library
in the middle of downtown and see the double trailers carrying dirt out of it without wondering where all that dirt goes. I asked
Susan Pollay
, executive director of the Ann Arbor Downtown Development Authority, to give me an idea of what might be happening to it.
The dirt is being removed to make way for an underground parking garage on the site. Several projects in Ann Arbor and around southeast Michigan will benefit from the, it turns out.
Dearborn sewer project: 87,000 cubic yards
The Dearborn Combined Sewer Overflow (CSO) projects will get 87,000 cubic yards of the dirt. The projects are designed to capture untreated sewage before it enters the Rouge River. It's about 35 miles from here to Dearborn. If you took 87,000 cubic yards of dirt and spilled it out behind the trucks carrying it, you'd cover a path 35 miles long, 10 feet wide and 15 inches deep.
More details on the Rouge River and pollution controls on it can be found at RougeRiver.com.


Atwater Street Reconstruction: 13,200 cubic yards
Atwater Street is under construction between Rivard and Orleans in Detroit. The project, when completed, is planned to have bike lanes. It will get 13,200 cubic yards of our Ann Arbor dirt. If you took a bicycle lane 5 feet wide and filled it with dirt 5 feet deep, you would need 13,200 cubic yards to make a lane 2.7 miles long.
Atwater runs along the Detroit riverfront; more information about the restoration of that area is found at the site for the Detroit Riverfront Conservancy.


Ann Arbor Streets backfill: 1,056 cubic yards
The City of Ann Arbor street construction projects will use 1,056 cubic yards of dirt. That's enough dirt to cover a football field about 8 inches deep.


MLK High School: 5,500 cubic yards
A new Martin Luther King Jr. Senior High School in Detroit is being built, and its construction will use 5,500 cubic yards of dirt from Ann Arbor. That's enough dirt to fill Burton Memorial Tower on the University of Michigan campus to a height of 4 stories.


Backfill for the basement of St. Joseph Mercy Hospital in Ann Arbor: 2,000 cubic yards
For a construction project at St. Joe's Hospital, 2,000 cubic yards will be used.
At flood stage, the Huron River carries 3,300 cubic feet of water per second. That means 2,000 cubic yards is about 16 seconds of river floodwater. The most recent measurements show the Huron carrying about 10 percent of the water that it does at flood stage, so this much dirt represents almost 3 minutes worth of river flow.


Stockpile to be used as part of the concrete mix for the site, other construction: 79,000 cubic yards
The remaining 79,000 cubic yards will be used as a part of the concrete mix for the site. "What's being taken from the site is a very high quality sand & gravel mix that lends itself as high quality construction material," writes Susan Pollay, DDA executive director.
Edward Vielmetti watches the trucks go by for AnnArbor.com. Contact him at edwardvielmetti@annarbor.com.