Posted on
Wed, Jul 21, 2010 : 11:37 a.m.
Robots invade the Ann Arbor Art Fair at 826 Robot Art Fair
By Amy Sumerton
This spring, we at 826michigan sat around scratching our heads, wondering what we should do for the infamous Ann Arbor Art Fair. Little did we know, the answer was, quite literally, right in front of us.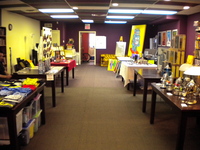 We moved to downtown Ann Arbor almost three years ago, so this is our third installment, and it's pretty safe to say that we are Big Fans of the fair. Two years ago, we tried an art auction. Last year, we attempted an Ann Arbor Art Fair Film Festival. Both events were fun and at least moderately successful in terms of fundraising for our free student programs, but this year we wanted to try something new.
And then it hit us. (How could it not? We are SURROUNDED.) Robots. A robot-themed version of Art Fair. We are, you may not be surprised, privileged to know a number of artists who deal in the medium of bots. Dylan Stryzinski of Intl Robot, for example, whose wildly popular shirts we sell in our storefront, the Liberty Street Robot Supply & Repair. Or Deanne, the woman behind Deets, who makes the most charming little robots, robotic bugs, and even a couple of robo-octopuses (one of which sold about 30 minutes before the Robot Art Fair actually even started).
Furthermore, it gave us a chance to wrangle Cre Fuller of Tin Angry Men into our space. I've been, well, I think it's fair to say stalking Mr. Fuller for some time now. His robot heads and lamps are unique and, for lack of a better word, AWESOME. Want proof? Take a look: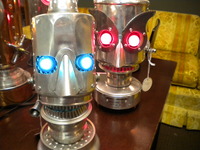 Neat, right? Furthermore, his table at the Robot Art Fair looks pretty much exactly like this: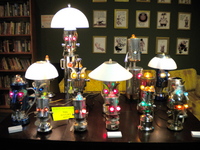 I bet you are wondering what the two very best parts of Robot Art Fair are, so I'll tell you. 1) It's all local artists from southeastern Michigan, AND 2) Twenty percent of all proceeds benefit free tutoring, writing workshops, field trips, in-school residencies, publishing opportunities, and more for area students. Let's just call it a win-win. Or, if you're included in the equation, a win-win-win.
Robot Art Fair started about five minutes ago. It runs from 12 p.m. to 6 p.m. every day of Art Fair in the back of the Liberty Street Robot Supply & Repair, 115 E. Liberty St. What are you waiting for? That large, metal, perforated portrait of R2D2 is waiting for you.
When Amy Sumerton is not program directing for 826michigan or managing the Liberty Street Robot Supply & Repair, she dreams of electric sheep.