Posted on
Sun, Nov 7, 2010 : 5:50 a.m.
Stefanie Murray promoted to new role at AnnArbor.com focusing on reader engagement
By Tony Dearing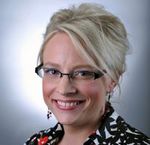 Stefanie Murray
, who has led AnnArbor.com's community team since our launch, has accepted a newly created position that will emphasize audience engagement with both news and advertising.
Murray begins her duties as real-time engagement officer today. In addition to overseeing our social media efforts, she will work in a variety of ways to increase the frequency with which people interact with our website, our e-mail newsletters and our advertising messages. She also will continue to oversee commenting and comment moderation on the site.
"Stefanie built our community effort from the ground up, and the skills that made her so successful in that effort are the skills we need in this new role,'' said Matt Kraner, president and CEO. "She understands all the ways that we need to reach people and be relevant to them in the digital age, and that will be her focus.''
Murray was one of the first hires at AnnArbor,com, joining us as community director. The job was an unconventional one for a media organization, focused on recruiting community members and bloggers to contribute content to the site on topics as varied as food and drink, books, faith and neighborhoods.
In her new role, Murray will take the knowledge we've gained from monitoring our site traffic and watching what readers are responding to in real time and expand on it to better expose readers to the variety of news and advertising available each day.
She also will work to increase the number of people who receive AnnArbor.com newsletters and who are finding and sharing our content through social media, as well as the number of people who register on the site, comment on a story or click through to advertising messages.
Prior to joining AnnArbor.com, Murray worked at The Ann Arbor News as business team leader and also at The Lansing State Journal. She holds a bachelor's degree in journalism and broadcasting from Central MIchigan University and a master's degree in journalism from the Medill School of Journalism at Northwestern University.
Readers of the AnnArbor.com newspaper also recognized Murray for the "Talk About Town'' feature that she does weekly with radio personality
Lucy Ann Lance
.
Jen Eyer, a member of the community team, has been appointed to assume responsibilities of AnnArbor.com's community director. Eyer has been responsible for building strong content and audience in the topic areas of parenting and pets, including recruiting community contributors to share their stories and launching regular weekly features such as parenting columns and a pet blogging feature. Eyer also successfully started and grew readership for a twice-weekly parenting newsletter. In addition, she has written a consumer advocacy column.
Eyer is a graduate of Michigan State University's School of Journalism, and spent several years as a newspaper reporter covering local government beats and six years as a news producer at MLive.com. She has written the Neurotic Mom blog on MLive.com since 2004.