Posted on
Fri, Jan 13, 2012 : 5:59 a.m.
Milton 'Mickey' Mindell, former Carpenter Road pharmacy business owner, dies at 84
By Katrease Stafford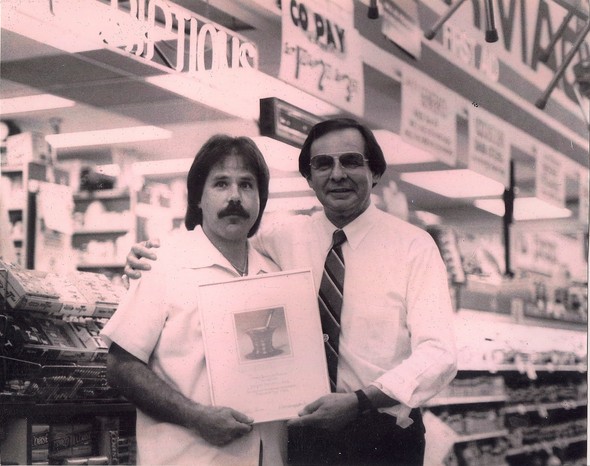 Photo courtesy of the Mindell family
Milton "Mickey" Mindell
, owner of the former
Ann Arbor
area
Mindell's Pharmacy
, was not only passionate about running a drug store. He also loved forming relationships with those who frequented his store and he never forgot a name, said his son
Michael Mindell
.
"He loved people and it wasn't a job to him," he said. "It was his life and he loved helping people. When people couldn't afford things, he just gave it to them. He had a personal relationship with everyone that came in."
Mickey Mindell, a resident of West Bloomfield, died Jan. 1 at the age of 84 from lymphoma.
"Everyone in the family was by his side when he passed away in the nursing home," Mindell said.
Mickey was born in Detroit on July 28, 1927 and after graduating high school, he decided he wanted to be in the Navy.
"He lied to the Navy and said he was 18," Mindell said. "He wanted to go to war but he was only 17 when he joined the Navy. By the time he got to Japan on the destroyer, the day he arrived in Japan the war was over. He had a couple easy years in the Navy and came back to Detroit and went to pharmacy school at Wayne State and he became a pharmacist and opened some drug stores in the Detroit area."
Mickey opened up Mindell's Pharmacy in 1968 and it was located at 3140 on Carpenter Road near Packard where stores such as Home Goods and T.J Maxx are now housed.
Mindell said the business closed in the 1990s after 28 years.
"The landlord at that property decided that 28 years into the 30 year lease that he would rather have Arbor Drugs as a tenant and without asking us, he gave our lease to Arbor Drugs and didn't give us an opportunity to renew," Mindell said.
"Arbor Drugs wanted to buy our store and we wouldn't sell it to them and they went to landlord and said 'I want that store' and I got that call from our landlord two years before the lease was up and he said 'that's it.' We would still be there today had he given us the opportunity to renew our lease."
A few years later, CVS Corp. acquired Troy-based Arbor Drugs Inc. for $1.48 billion in stock, according to the New York Times.
Since Mindell's death, community members have recall memories in an online memorial guestbook — and each one recalls his kindness and sincerity.
"We had a pretty good following of customers," said Michael, who joined the company as a pharmacist in 1975 and worked there until it closed in 1996. "People loved my dad and he was very interested in every customer. We knew all of our customers by their first names. We had a good business there."
Bruce Kutinsky, who is also now a pharmacist, said much of what he knows came from working under Mickey. Kutinsky began working at the pharmacy with his uncle Mickey at the age of 12.
"Mickey was my inspiration to become a pharmacist," Kutinsky said.
"He was my role model and why I live in Ann Arbor. It's pretty uncommon at 12 or 13 to know what you want to be. I worked initially as a stock boy and when I attended the University of Michigan, I worked as a pharmacy tech. When I got into pharmacy school I worked as a pharmacy intern and when I graduated we opened another business. That company was also based in Ann Arbor and sold to Walgreens."
Kutinsky remembers the store as one of the first full-service pharmacies in the area. "I think it was a destination store," he said. "Back then in the pharmacy you could buy groceries, your prescription, everything. I would say 'where else can you get canned shrimp and a prescription?' It was a large drug store. In my mind he was ahead of the game. That was his forte."
Kutinsky said Mickey was known not only for being a "master of merchandising" but for his impeccable customer service.
"Everyone felt at home and welcome," he said. "If you weren't feeling well and needed a delivery, we delivered. There was a senior citizen home next door and we delivered over to them on a daily basis. People just felt warm and welcomed by him. People came to the store for that reason. His reach was wide. I will remember his legacy of a successful store and him being a brilliant operator. He was just the nicest person that you would want to meet. Everyone would probably universally same the thing. "
Mindell said he learned invaluable lessons from his father.
"He was a very open book," he said. "He taught me that people would come to our store not because of price but because of us. We were not selling products, we were selling ourselves. People came from great distances. They came from all over just for a chance to see my dad."
Many have asked how they should go about showing their appreciation and gratitude to Mickey and Mindell said his father would have only wanted one thing.
"I said at the funeral that everyone can honor my dad just by being kind to other people," he said. "My dad wouldn't want anything else in the world but people to be nice and go out and do something to be kind. He live his life by being kind."
Mickey is survived by his wife Rita; his three sons, Michael, Allan, and Seth; seven grandchildren; his brother Bernard; brother-in-law Edward Pollak; and many other family members.
Katrease Stafford is a freelance reporter for AnnArbor.com.