Posted on
Sun, Jan 15, 2012 : 5:59 a.m.
'Internet sweepstakes cafe' in Ann Arbor rejects comparisons to gambling
By Tom Perkins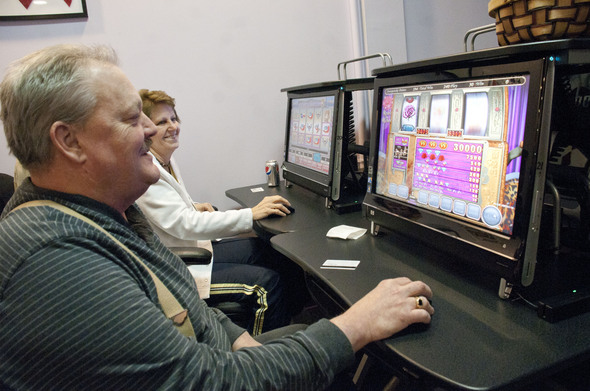 Tom Perkins | For AnnArbor.com
On a recent evening, John Brink sat in front of a large computer monitor at the 3 of Diamonds Internet Cafe on Eisenhower Parkway in Ann Arbor playing an Internet sweepstakes game.
The game, "Soda Pop," resembles a casino-style video slot machine that lines up bottle caps for players to win points. Brink "wasn't having a lucky night," but he is a regular at 3 of Diamonds and previously won $150 in one sitting.
The business' owners say it's not gambling. Instead, they say Brink is playing a sweepstakes game at an Internet sweepstakes cafe. Unlike gambling and games at casinos, they said there is no chance involved at 3 of Diamonds — and that anyone can play for free.
The cafe is one of about a dozen Internet sweepstakes cafes that have popped up throughout southeast Michigan over the last year.
Brink said he prefers sweepstakes games and 3 of Diamonds to gambling at a casino.
"There's no smoking here, it's very relaxed, all-around very comfortable and it's easy to get to," said Brink, who lives in Livonia but works in Ann Arbor. "It just has a nice atmosphere with big screens and a lot of different games."
But a new brochure issued by the Michigan Attorney General's Office says the sweepstakes operations are of questionable legality.
Mike Bergen, owner of 3 of Diamonds, emphasizes that the sweepstakes games are not another form of gambling — a point underscored by multiple signs posted throughout the business in the Colonnade shopping center.
Here's how it works: When customers visit 3 of Diamonds, they purchase a phone card that is good for calls anywhere in the world. Customers receive a set amount of "sweepstake points" as a promotional giveaway with the phone card. At 3 of Diamonds, a $25 phone card will get a customer 3,000 sweepstake points.
Those points are then used to play a game, which can resemble slot machines, dice or keno based games.
When a player "spins" on any turn on any of the games, they are given an electronic ticket with 10-digit number that appears somewhere on the computer screen. That number is supplied by the software company that produces the games for 3 of Diamonds, and it is already predetermined to be a winning number or losing number.
Winning ticket numbers already have a predetermined "win point" value, and the software then generates a winning "spin" that will give the player "win points," which can be cashed out for money.
If, for example, Brink received a ticket number on Soda Pop that had a win point value of $50, the software on the computer would line up the bottle caps in such a way that he wins $50. But those bottle caps lining up wasn't chance - the computer was programmed to line them up in the winning order because of the predetermined winning ticket number.
Because no purchase is required for sweepstakes, 3 of Diamonds will give customers 100 free sweepstake points if they ask.
But, at the end of the day, people are putting down money to win money. So isn't that gambling?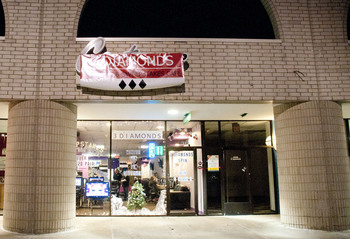 Tom Perkins | For AnnArbor.com
Bergen says no, and likens it to playing sweepstakes games at McDonald's, where tabs are pulled off packaging to reveal if that product is a winner or not.
"You could go buy 200 McDonald's Happy Meals to play their Monopoly game. Is that gambling?" Bergen asked.
Bergen contends his business pays income tax on its earnings, pays sales tax on the phone cards it sells and is governed by sweepstakes laws, so he doesn't see any need for additional governmental regulation.
Assistant State Attorney General Don McGehee oversees gaming issues for the attorney general's office. He did not respond to AnnArbor.com questions, but recently issued a new Internet sweepstakes cafe guide.
The brochure from the AG's office stated that Internet sweepstakes cafes offer "games of chance" for customers to play for a fee.
"These establishments may be run under the false premise they are conducting legal promotional sweepstakes, but there is no such exception for this type of gaming under Michigan law," the brochure reads.
It says sweepstakes are not defined under Michigan law, but there is an exception for promotional activity that is narrow and requires a sweepstake to be "a promotional activity that is clearly occasional and ancillary to the primary business."
Additionally, the requirement that a customer be present at the cafe to pay for Internet access to play a game makes it a lottery, not a sweepstakes, according to the AG's Office's statement.
In the case of 3 of Diamonds, Bergen says his business is selling phone cards, and the rest is simply a promotional activity.
3 of Diamonds, which is located at 893 W. Eisenhower Parkway, leases the gaming software from Phone Sweeps, a company that provides sweepstakes software to cafes around the country. Phone Sweeps provides the games and ticket numbers for 3 of Diamonds, and Bergen has no control over the ticket numbers or even a choice in the games that are loaded onto the cafe's computers.
Bergen said he first started thinking about opening a cafe after visiting them with his parents who live in Florida.
Although customers can win money and 3 of Diamonds has distributed nearly $80,000 since September, Bergen said one of the reasons the cafe is so popular is because it doesn't have a casino atmosphere. Its 25 monitors are spaced at comfortable distances from one another on large tables. There is no smoking, the noise level is significantly lower than at a casino and customers sit in large, cushioned chairs.
No alcohol is served at 3 of Diamonds, but local ordinances allow the possibility to create a section where people can bring their own alcohol and play. Bergen said his cafe could go that route, but he said he wasn't yet sure if it would.
For now, the cafe offers free bags of chips, pretzels, pop and bottled water to customers. Although Michigan residents only have to be 13 years old to enter sweepstakes, you must be 18 to enter 3 of Diamonds.
"It's a social atmosphere, but it's a nice clean, safe environment," Bergen said. "People can play the games, and some of them get lucky and win the sweepstakes."