Posted on
Fri, Dec 2, 2011 : 5:59 a.m.
A123 Systems layoffs highlight challenges for Michigan's budding battery industry
By Nathan Bomey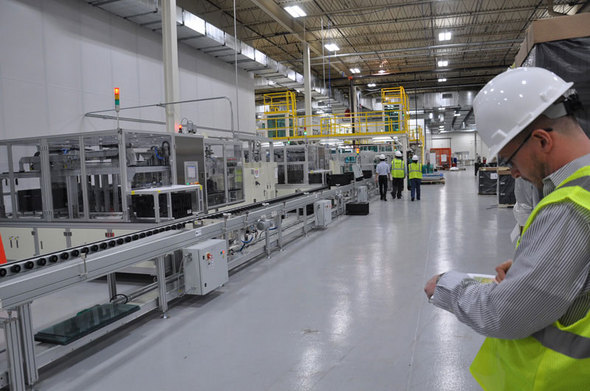 Photo courtesy of A123 Systems
The chief executive of
A123 Systems Inc.
— one of Michigan's most celebrated alternative energy companies and a major recipient of federal economic stimulus dollars and state incentives — conceded that a shakeout is coming for the U.S. battery industry.
How Michigan's emerging battery industry will fare during that process — and whether manufacturers will add the thousands of jobs they promised to create in exchange for government cash and tax incentives — is unclear.
Less than two weeks after Massachusetts-based A123 laid off 125 workers at its Michigan battery plants, A123 CEO David Vieau agreed that some of the early entrants into the lithium-ion battery race eventually will lose.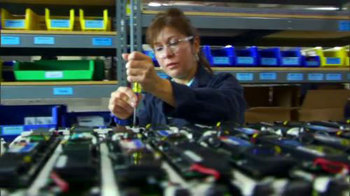 Photo courtesy of A123 Systems
"I certainly believe there will be consolidation over time as companies with different approaches to the market and different degrees of funding and access to funds will get weeded out," Vieau told AnnArbor.com in an interview. "That's happened with every new technology I've experienced in the last 40 years. So that's not too surprising."
A123's layoffs — which the company has said are temporary — reflect one of the first hiccups in the growth of Michigan's battery industry, which has been widely described as a major economic development opportunity for the state.
Investors recently have shown little faith in the company, which President Barack Obama lauded in September 2010 as an "extraordinary" reflection of U.S. innovation and also drew attention in 2007 from President George W. Bush as a way to pursue energy independence.
A123, which has about 40 workers at its research-and-development and government operation in Ann Arbor's Research Park, sold stock at a price of $13.40 a share during its IPO on Sept. 29, 2009. The stock (NASDAQ:AONE) rose quickly, hitting an all-time high of $28.02 on Oct. 5, 2009. But it's since declined 92.8 percent, hitting an all-time low of $2.01 on Nov. 25, 2011.
The disruption in A123's growth trajectory underscores a reality that's often overlooked in Michigan's battery rush: The early stage of any new industry involves a roller coaster of highs and lows.
Industry experts expect some early-stage startup battery companies to fail as winners emerge and technology changes. Others are expected to soar.
But battery cells, modules and packs — the key components in electric vehicles — are still expensive and complex. Simply increasing production volumes might not make them affordable for the average consumer, one analyst said.
Photo courtesy of A123 Systems
"People in the major car companies are concerned about the cost and how quickly it can go down," said Kim Hill, director of the sustainability and economic development research at the Ann Arbor-based Center for Automotive Research. "Fundamentally a breakthrough has to occur, and everybody's hanging their hat on that."
CEO 'confident' A123 will meet job growth promise
Vieau argued that A123 — which has lost $412.3 million since the start of 2009 — would thrive in the global race to reduce the cost of batteries for electric vehicles. He said taxpayer dollars awarded to A123 would not be wasted.
To support its expansion, A123 landed a $249.1 million economic stimulus grant from the U.S. Department of Energy in August 2009. That came after the company won $125 million in tax credits and incentives from the Michigan Economic Development Corp. in spring 2009 and a $10 million cash grant from the state in fall 2008.
In exchange for the grants and tax breaks, A123 promised — as recently as September 2010 — to create "thousands" of new advanced manufacturing jobs in Michigan. The same month, the White House issued a news release saying A123 planned to create 3,000 jobs at its Michigan plants. In November 2009, a press release from the office of then-Gov. Jennifer Granholm, a major proponent of the battery tax credits, put the figure at 5,000.
"The timing might be a little longer than we originally anticipated but we're still very bullish on the number of jobs," Vieau said. "I don't know where the 5,000 came from, but I recall several thousand people has been a number we've used pretty consistently over the last 2, 2.5 years. We still feel quite confident in achieving that."
In July 2011, the company publicized the hiring of its 1,000th Michigan worker. Since then, A123's personnel count has fallen to about 700 — which accounts for the recent layoffs and a number of contractors who are not currently working there, a spokesman said.
With the company's layoffs, a declining stock price and continued questions about how fast electric vehicles will become affordable and widely adopted, A123 faces a number of challenges.
Add to the mix the implosion of federally backed California-based solar panel maker Solyndra, and there's an increasingly intense spotlight on recipients of government cash like A123.
"The red flag that's raised for me and a lot of people is when you see the market being dictated by government subsidies and mandates," said Russ Harding, a former director of Michigan's Department of Environmental Quality under Republican Gov. John Engler and now an analyst for the conservative Mackinac Center for Public Policy.
"Even if you're a real strong advocate of alternative energy, this is not going to be in your best interests when the government tries to push these technologies before they're ready," Harding said. "They just end up failing in the marketplace, whether it's high visibility like Solyndra, or the smaller ones in Michigan. They're falling right and left."
Vieau rejected any hints of parallels between A123 and Solyndra.
"Some of the recent struggles have been companies that are underfunded," Vieau said. "And we've been adequately funded to do the job that we've got to do. We've had access to the capital markets, we've had good support, we've got a blue-chip set of customers out there."
A123 is being watched closely by industry experts and political leaders. Obama himself met with Vieau in the Oval Office in April 2010 to discuss A123's progress and praised the company by phone at a press event in September 2010.
"This is important not just because of what you guys are doing at your plant, but all across America, because this is about the birth of an entire new industry in America — an industry that's going to be central to the next generation of cars," Obama said.
"And it's going to allow us to start exporting those cars, making them comfortable, convenient, and affordable. It helps our manufacturing industry to thrive, and with it, that means our communities and our states and our country are going to thrive."
Cuts highlight deal with Fisker
Although A123 has secured battery supply deals with more than 20 auto or transportation companies — in addition to some electrical grid and commercial customers — a few major clients account for most of the company's revenue.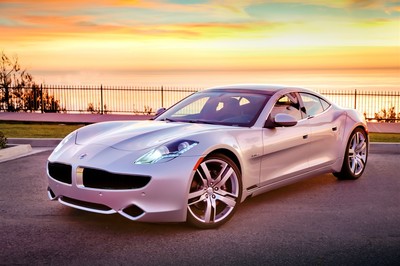 Photo courtesy of Fisker Automotive
A123 last month laid off 125 workers at its plants in Romulus and Livonia after one of its biggest customers, California electric vehicle startup Fisker Automotive, slowed its production plans for a new plug-in hybrid vehicle that uses A123 batteries.
A123 expects the layoffs to last three to six months while Fisker adjusts its production schedule.
Fisker, which received a $528.7 million loan from the DOE's Advanced Technology Vehicles Manufacturing Loan Program in 2010, has drawn scrutiny after experiencing a number of delays in producing its first vehicles.
Roger Ormisher, Fisker's director of global communications, told AnnArbor.com the automaker's relationship with A123 is still healthy and that the company expects to produce 10,000 to 20,000 vehicles in 2012.
"What basically happened was our ramp-up in production was slower than we expected this summer," Ormisher said. "We've actually pre-ordered batteries from A123. Our inventory at the factory is sufficient to get us through the first quarter of next year."
A123's unexpected layoffs placed a spotlight on the company's heavy reliance on its contract to produce batteries for Fisker.
"They're a big part of our plans and in the top two customers we have for this year and for next year for sure," Vieau said.
A review of A123's third-quarter earnings report with the U.S. Securities and Exchange Commission shows that the company gets 51 percent of its revenue from two customers. Government contracts and subcontracts make up another 12.3 percent of A123's revenue.
Vieau said he's confident Fisker is stable.
"They're a little slower in the ramp-up than expected and got their inventories out of balance," Vieau said. "They've got enough batteries to meet their requirements right now. What we've said is it might be a three- to six-month kind of delay, but we expect them to come back quite strong."
Fisker's delays and A123's corresponding troubles come as several major companies are pursuing battery manufacturing plant expansions in Michigan. Other Michigan-based beneficiaries of federal dollars, state tax relief or both include a venture backed by Dow Chemical, Johnson Controls and LG Chem's Compact Power unit. All three are constructing battery plants, projecting thousands of new jobs.
Michigan battery makers secured $2.1 billion in tax credits and about $1 billion in federal stimulus grants while interest in batteries peaked two years ago, according to the nonpartisan think tank Center for Michigan. Collectively, state and federal experts projected the battery expansions would create 64,000 jobs directly and indirectly.
A123 Systems, which has never been profitable, posted a net loss of $63.717 million during the third quarter of 2011, up from $43.735 million during the third quarter of 2010.
A significant portion of A123's losses is attributable to the expansion of its manufacturing capacity in Livonia and Romulus. The battery maker purchased property, plant and equipment costing $113.729 million during the first three quarters of 2011, up from $107.780 million during the first three quarters of 2010.
A123 offset those purchases with $32.022 million from its federal grant in the first three quarters of 2011 and $49.642 million in the first three quarters of 2010.
The company's cash or cash equivalents slipped from $300.8 million on Sept. 30, 2010, to $225.8 million on Sept. 30, 2011.
Battery makers face hurdles
Industry experts and research say lithium-ion battery makers face a litany of challenges over the next several years.
MEDC industry analyst Eric Shreffler said the agency's battery tax incentives program — which distributed its final incentives last year — included a vigorous vetting process, employing federal scientists and third-party experts to analyze incentive applications.
He acknowledged the "potential for (a) shakeout" at some point, but said Michigan's battery companies are already diversifying their client base by securing customers in the electrical grid, commercial and military markets.
"The companies Michigan has invested in — certainly from a global perspective — have as good of an opportunity as anyone to be successful for many years down the road," Shreffler said.
"We really are at the beginning stages of this, and I think you're going to see — just like in any new innovative technology — that there's going to be some ups and downs. Clearly we hope that we never have to see layoffs and things like that, but I think it would be very foolish for us to be knee-jerk and say the sky is falling here."
One of the largest threats to the growth of Michigan's battery industry is the high cost of the technology itself, which translates into expensive vehicles. For example, General Motors' extended-range electric Chevrolet Volt starts at about $40,000, and Nissan's pure electric Leaf costs more than $30,000 — before tax credits kick in.
But experts disagree over the pace at which battery costs will fall. Manufacturers closely guard the current cost of electric vehicle battery packs, but a January 2011 report by the Center for Automotive Research pegged it at about $1,000 per kilowatt hour.
"Battery costs are an obvious barrier to the widespread use of" electric vehicles or plug-in electric vehicles, CAR analysts reported.
The industry consensus is the cost of lithium-ion battery packs must fall to $250 to become viable.
The U.S. Department of Energy estimates that target could be reached as soon as 2015, while the Boston Consulting Group reported last year that reaching $250 by 2020 presents "substantial challenges." Pike Research projects that the cost would drop to $470 per kilowatt hour in 2015.
Vieau said A123 expects the price to drop to $350 to $450 by 2015 or 2016.
"Saying the battery costs would come down about 50 percent over a 5-, 6-year period is reasonable," Vieau said.
Still, experts agree that the industry must achieve major technological breakthroughs to significantly lower the price of lithium-ion batteries.
"You can't tell for sure where the R&D path is going to end up because it's such a new technology — new in that trying to get the kind of power out of the battery that you want and need for a pure electric vehicle," said Bruce Belzowski, an assistant research scientist with the University of Michigan's Transportation Research Institute.
Major corporations and startups like Ann Arbor-based Sakti3, a spinoff from the University of Michigan, are pursuing various next-generation battery technologies.
"Technology innovations are the only way to bring prices down significantly, once the economies of scale have been achieved in a certain industry," Sakti3 CEO Ann Marie Sastry said in an email.
Lower battery costs, improved energy storage and a record of reliability on the road would prompt consumers to consider buying electric cars, experts said.
But Hill said that as long as the price of gasoline is low, consumers don't have much incentive to buy electric cars. The average price of a gallon of gasoline is hovering just above $3 in Ann Arbor.
"That's not enough to scare anybody to spend more on a pure electric vehicle," Hill said.
In its third-quarter earnings report, A123 also acknowledged that consistently low gasoline prices would reduce the demand for alternative propulsion vehicles and "have a material adverse effect on our business."
Does the battery industry need an additional boost?
Harding, the analyst for the Mackinac Center, which has been critical of A123's tax incentives, said the government needs to stop trying to "picking the winners and losers" in energy.
"Federal government policy has made the decision that electrification of autos is the future, and that is highly questionable," Harding said.
Supporters of government investments in battery technologies and charging infrastructure say it must be a priority to help Michigan stay competitive with competitors in Asia, which dominates lithium-ion battery development for consumer electronics.
In July, U.S. Sen. Debbie Stabenow, D-Michigan, proposed a new $2 billion bill that, she estimates, would help the U.S. boost its share of advanced battery manufacturing production from 2 percent a few years ago to 40 percent within three years.
Her bill, the Battery Innovation Act, would create new grants and funding opportunities for battery research and production, identify domestic supplies of raw lithium and provide loan guarantees for businesses that buy batteries for on-site energy storage.
"The United States is in a race with countries like South Korea, Japan, and China to lead the world in the development of clean energy technologies like advanced batteries," Stabenow spokesman Matt Williams said in a statement provided to AnnArbor.com.
"With all of our engineering and manufacturing expertise, Michigan is leading our country in this race and the advanced battery industry has generated billions in private sector investment that has created thousands of jobs. Sen. Stabenow knows winning this race will not be easy, but we cannot afford inaction. The future of our economy depends on it."
In August, Michigan legislative Democrats proposed additional investments in the state's battery industry. But Republicans, who control the House, Senate and governorship, have little appetite for more incentives targeted toward a specific industry.
Gov. Rick Snyder, a first-term Republican, and legislative Republicans revamped Michigan's business tax structure in early 2011 and slashed most of the state's business tax credits.
Snyder told AnnArbor.com after an October event on Michigan's "green chemistry" industry that he expects "there could be some challenges" with some of the Michigan companies that have received tax credits in recent years. "We always have to be careful," Snyder said. "Government's role in terms of making investments like that is - that's not typically the highest and best use of government, and I'm not a big fan of picking winners and losers."
Contact AnnArbor.com's Nathan Bomey at (734) 623-2587 or nathanbomey@annarbor.com. You can also follow him on Twitter or subscribe to AnnArbor.com's newsletters.