Posted on
Thu, Apr 15, 2010 : 5:10 a.m.
Executive profile: Albert L. Berriz, vice president/director of residential sales & marketing, McKinley
By Sarah Rigg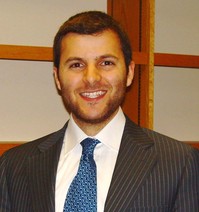 Albert L. Berriz never expected to end up in the family business, but after several twists and turns in his life story, he was recently promoted to the vice president/director of residential sales & marketing for McKinley.
Berriz grew up in Orlando, Fla., where he said his father, Albert M. Berriz, was "a part of McKinley all my life." Later, the family moved to Ann Arbor to be "in the center of the business." Albert M. Berriz is CEO of McKinley.
Albert L. Berriz said he lived in McKinley properties as a child, grew up considering McKinley employees as friends and absorbed the company's values through those experiences. As a high school student, he did an internship in business information systems with McKinley and then another as an onsite sales associate at one of the properties.
"There's nothing like being in one of our communities," he said, interacting with property managers, meeting customers and "getting to know the front line of the business."
Still, after high school, Berriz's ambitions had nothing to do with real estate investment, property management or the other services McKinley provides
"I don't think I ever pictured myself working at McKinley," Berriz said.
He earned a bachelor's degree in philosophy from the University of Michigan, developed an interest in competitive online gaming and traveled the world gaming.
Once he started working in the field, though, he discovered he enjoyed playing the games more than creating them. The next thing that piqued his interest was Internet marketing. He had ambitions to team up with a friend in Chicago and run their own marketing firm.
However, Berriz's father asked him to come do a six-month trial run at McKinley, putting his knowledge of social media and his passion for viral marketing to work there. The rest is history.
While at McKinley, Berriz led his team to develop several initiatives, including my.mckinley.com — an online community for residents of McKinley properties. Through the site, they can pay bills, communicate with property managers and make complaints and suggestions.
Those customer suggestions, Berriz said, really are implemented. For instance, it was because of a customer suggestion that recycling services were started at a local McKinley apartment complex.
Berriz said he believes he is providing an important product. "It's a very specific product, not just a toaster oven," he said. What he's marketing, he says, is a home, where people spend most of their day-to-day lives, adding that it's one of the biggest payments, next to a vehicle, they're likely to make.
"We impact lives," he said. "It's harder to do that when you're selling a tool belt. It's different when it's a home."
And moreover, nobody likes to move — "Moving is a nightmare," he said — so he wants to make customers happy so they don't have to.
Background

Age: 24.

Education: University of Michigan - degree in philosophy.

Family: Wife, Natalie Berriz, and parents Albert M. and Paula Berriz.

Residence: Ann Arbor.
Business Insights

Best business decision: My best decision period was marrying my wife; no other decision compares enough to mention, in or outside of business.

Worst business decision: Not deciding soon enough, no matter the decision.

Best way to keep a competitive edge: Trusting my instincts.

Personal hero: Leonard Kahn & Armando "Pipo" Berriz.

How do you motivate people? By keeping things simple, setting high expectations and making it a point to have fun every day.

What advice would you give to yourself in college? None.

Word that best describes you: Confident.

First Web site you check in the morning: My.mckinley.com, to connect with our residents.
Confessions

What keeps you up at night? Nothing.

Pet peeve: Excuses.

Guilty pleasure: Watching crazy unrealistic sci-fi shows.

First job: At a start-up games developer in Los Angeles.

Treasures

Favorite cause: Neutral Zone Teen Center (where my wife works).

Favorite book: The Foundation Trilogy (Asimov).

Favorite movie: "Gladiator."

Favorite hobby: Competitive gaming.

Favorite restaurant: Green Zebra (Chicago).

LinkedIn, Facebook or Twitter? All three - we have customers who like to use each!

Typical Saturday: Relaxing and spending time with my wife.

What team do you root for? Team McKinley.
Wheels: Same car I've had since I was 16 - a Black VW Jetta.
Sarah Rigg is a freelance writer and a frequent contributor to AnnArbor.com. You can reach her at sarahrigg@yahoo.com.