Posted on
Sun, Jun 24, 2012 : 1:20 p.m.
Creative inspiration: Violin maker from Ann Arbor's Alf Studios expands business with year in Italy
By Laura Blodgett
One of the benefits of being an artist is that you can often practice your craft wherever inspires you. That is the case for master violin maker Gregg Alf, who is moving his family to Venice, Italy, for a year abroad.
"Part of my product and what I create is based on what I put into myself, my aesthetic sense," said Alf, who has operated Alf Studios in Ann Arbor, formerly known as Curtin and Alf, for 30 years. "Venice is such a rich environment, I'm sure it's going to provide a lot of creative inspiration."
Melanie Maxwell I AnnArbor.com
Over the years, Alf has traveled regularly to Italy for materials, as well as his duties serving as the U.S. delegate for the Entente Internationale des Luthiers et Archetiers, also known as the
International Society of Violin and Bow Makers
. While overseas this year, he will be working on an exhibit of Venetian violin-making for the organization.
He has rented studio space where he will continue making his violins, including a limited edition Venetian model, and will send each completed instrument back to the Ann Arbor studio to be photographed, cataloged and shipped to the musician who commissioned it. Leaving July 15, he plans to return in a year. If all goes well, he may consider another year abroad, possibly in China.
Alf says this year abroad represents a milestone in the development of his business. "Organizing life in Venice for a year is easy but the real challenge is how to keep your shop going back home. (My employees) depend on the shop and I depend on it."
Alf carefully groomed his company to the point where he could travel while the business operation in Ann Arbor would run as usual.
He attributes it to not only to having developed a solid client base, but by organizing the business with a franchise philosophy where employees know each job description step-by-step "so you don't lose the business if you lose one person," said Alf.
Alf employs four people at his Burns Park studio, including a full-time woodworking assistant, part-time business manager and an apprentice. He makes 10 instruments a year—violins, violas or cellos—that range in price from $30,000 to $70,000. It takes roughly 100 hours for him to make a violin.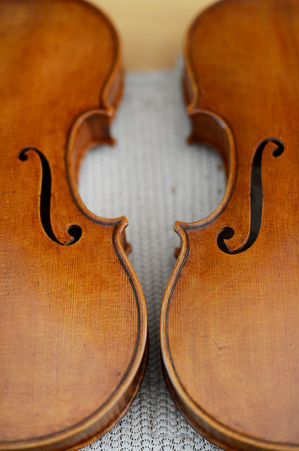 Melanie Maxwell I AnnArbor.com
Alf graduated high school from a private music school in England and, at age 18, had the chance to go to Cremona, Italy, home of
Stradivari
and considered to be the city where violins were invented. He lived there for eight years, attending violin-making school and serving as an apprentice himself.
Eventually, he felt he needed to decide whether to stay in Italy or come back to his home country. He and Joseph Curtin, who had already joined Alf's studio in Italy, came back to the U.S. together with plans to become business partners. Alf organized for himself a national lecture series on violin-making at music schools around the country with an eye toward determining where he would settle.
He came to Ann Arbor in 1984 and fell in love with the city.
"It was the fall and school had just begun," said Alf. "Robert Culver, a music professor at U of M, was very kind to me. He invited me to his home and encouraged me. "
Ruggiero Ricci, who was also on the faculty at the University of Michigan, commissioned an instrument from Alf, a great assignment that "sealed the deal," and Curtin and Alf decided to open their studio here.
Although they were in business together for 12 years, their goal all along was to eventually have their own studios. Over a two-year period they carefully set up separate shops.
"There is more artistic integrity when you have your own studio," said Alf. "If we had continued, it would have become more corporate which was not our goal. We're still best of friends and we see each other all the time. He is an unofficial parent to my kids."
With a business built solely on word-of-mouth, Alf maintains an international clientele of professional musicians from places like South Korea, Hong Kong, Beijing and England. Although the recession affected him, he says violin makers still sell in hard times just that string players may select lower priced instruments during an economic downturn.
"As long as there is string music in the world, I will have orders," said Alf. "Wherever the world is strong, or the arts are strong, that is where your orders are."
Alf says the violin-making industry has changed a lot in 30 years, because of the emerging global marketplace.
"There are some pretty good factory-made violins in China available for $300 or $400 now. It's a race to the bottom in terms of price and it pulls the whole market down in some ways."
Alf adds that every time he finishes a violin he feels so fortunate to be supported in his work.
"I don't take it for granted that I am able to feed my family doing something I love," said Alf.