Posted on
Wed, Aug 17, 2011 : 5:56 a.m.
McKinley appointed receiver of one of largest distressed apartment portfolios in U.S.
By Paula Gardner
An Ann Arbor real estate company was just awarded a contract to manage one of the largest distressed multifamily housing portfolios in the U.S.
McKinley Inc. was appointed receiver of the Babcock and Brown FX 3 Portfolio, which was originated by Column Financial in 2006.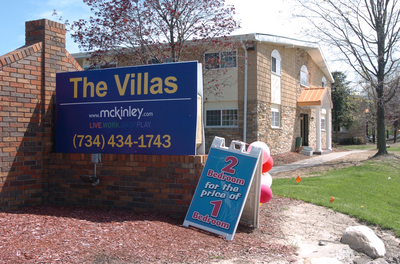 AnnArbor.com files
The $195 million loan for the 14-property portfolio was packaged into commercial mortgage-backed securities by an Austrailian investment company that liquidated in 2009.
At that time, the company owned more than 20,000 apartment units that were financed by the complex CMBS structure.
Many of the firm's assets have been sold as the trust operating them winds down, said Ken Polsinelli, senior vice president at McKinley.
Now, McKinley is taking over the management of the portfolio's 3,719 units in six states, Polsinelli said.
"It's a significant assignment," he said.
McKinley owns about 5,000 apartments in Washtenaw County and about 15,000 others in its 20-state market.
Over recent years, its business has grown significantly from adding to its institutional management portfolio, bringing its total number of multifamily units under management to 30,000.
The latest contract represents at least 10 percent growth in that number.
It comes as the CMBS market continues to suffer under declining values, particularly in the multifamily sector, Polsinelli said.
"Commercial real estate is still very distressed," he said.
Among CMBS deals, the default rate for multifamily properties is about 17 percent. That compares to its historic rate of about 1 percent.
That means there still will be many more temporary management opportunities awaiting companies like McKinley, which specializes in large, complex deals, Polsinelli said.
The most recent assignment could last up to about two years, Polsinelli said. That timeframe represents a typical workout, which makes McKinley responsible not just for daily operations but also initiating repairs, raising occupancy levels and increasing the value of the asset.
McKinley will hire staff at the individual properties, but the contract is not likely to result in additional staffing at the Ann Arbor headquarters on North Main Street, Polsinelli said.
Recent local workouts for McKinley include Tuscan Creek and LakePointe Apartments, both in Ypsilanti Township.