Posted on
Sun, Feb 24, 2013 : 5:59 a.m.
Milstein and Milshteyn: Ann Arbor brothers with different names share the same drive
By Ben Freed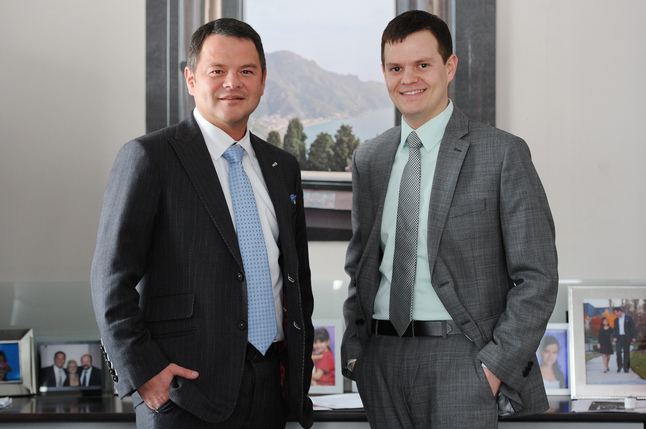 Melanie Maxwell | AnnArbor.com
By the numbers,
Dan Milstein
and
Alex Milshteyn
are extremely successful.
Milstein was the top mortgage originator in the country in 2010, closing $385 million in loans. One year later, Milshteyn sold 160 homes in the Ann Arbor area worth a combined $28.5 million.
However, if you ask the brothers themselves, they tell another story.
"I hear people saying we're successful, you're successful," Dan Milstein said.
"But I don't view myself as successful. The moment I say, 'I'm successful,' is the time to move all of my things out of my office into my house, pat myself on the back, and retire. Until then I'm only as good as my next client or my next employee."
Milstein and Milshteyn came to America from the former Soviet Union in 1992 when Dan was 16 and Alex was 8. Their family came to Ann Arbor to join distant relatives because Chicago was too expensive.
"We were only able to bring one suitcase and 75 dollars per person out of the USSR," Dan Milstein said. "We couldn't afford Chicago so that's how we ended up here in town, and we've been here ever since."
Milstein is founder and CEO of Gold Star Mortgage, a company that has been on the Inc. 500 list of the fastest growing companies in America. He also has written two books, the second of which, 17 Cents and a Dream, debuted Feb. 4.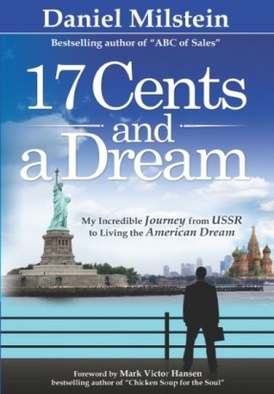 The book already has risen to number two on the Amazon Kindle store in the Entrepreneurship category and is the number 34 book in the memoirs section. The new book is the tale of the brothers' journey to America from the Soviet Union and Dan Milstein's drive to achieve his American dream.
His little brother also has harnessed the immigrant's drive to succeed and started his own company at a young age.
"The American dream is entrepreneurship," Alex Milshteyn said. "And that's what we've done."
"I'm an entrepreneur, I started a real estate business at the age of 18 and that's the American dream in my opinion. Doing something you want to do and realizing its potential."
Milshteyn is a Realtor with Howard Hanna in Ann Arbor and was named one of Realtor Magazine's 30 under 30 in 2011.
"Alex and I have one thing in common," Dan Milstein said. "I haven't called in sick since 1998. I'm here every day dead or alive assisting my employees and my clients to achieve their American dream and goals."
"It's true," Alex Milshteyn added. "I sometimes call my assistants and tell them not to come into work because I'm there and I don't want to infect them with anything."
While the two share a work ethic and a set of parents, they do not share a last name. At least, not the same spelling of their last name.
"I have the original last name," Alex Milshteyn said. "Dan decided to be creative and change his."
"I changed my name to make it easier in the business world, but also so it could be pronounced the way it should be pronounced," Dan Milstein replied.
"It's OK, because people remember my last name more," Milshteyn said. "It's unique, and they can't pronounce it, but when you do get it, it's very exciting."
"Right, but when we came here Alex was fairly young so he dropped the accent but I still have [it]," said Milstein. "So people remember me for that. Alex is trying to be creative because he doesn't have the accent to set him apart."
Their age difference prevented the brothers from competing to a large extent, and they both insist that it was pure coincidence that they both entered the housing business with their own focus.
"I just ended up becoming a mortgage guy and [Alex] ended up being in real estate," Dan Milstein said.
"I would love for Alex to come work for me at Gold Star and I'm sure he'd love for me to go and be his Realtor's assistant, but I don't think either of those are going to happen."
Alex will continue to sell houses, Dan will arrange ways for people to pay for them, and neither plans to leave Ann Arbor any time soon. Milshteyn said the only place he's ever found that felt nearly as "home" as Ann Arbor was Boulder, Colorado, and he realized that was only because it reminded him of Ann Arbor.
Gold Star has been headquartered in Ann Arbor since it was founded, and Milstein said even with plans for expansion, he's not going anywhere.
"We are forever thankful to the American government and to the residents of this town for giving us the opportunity to come here," he said.
"We had a lot of people that helped us along the way whether it was clothing to wear or a community resident who helped us with an apartment before our subsidized housing was available… We have stayed on course and true to ourselves to support the city that has given us such opportunity."
Ben Freed covers business for AnnArbor.com. You can sign up here to receive Business Review updates every week. Reach out to Ben at 734-623-2528 or email him at benfreed@annarbor.com. Follow him on twitter @BFreedinA2