Posted on
Tue, Mar 27, 2012 : 5:58 a.m.
Ann Arbor Cash Mob plans spending crawl on Saturday in downtown Dexter to support businesses
By Lizzy Alfs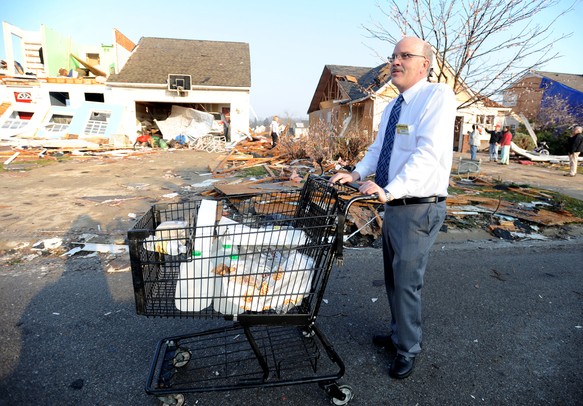 Angela Cesere | AnnArbor.com
The
Ann Arbor Cash Mob
is hosting a "
Tornado Relief Cash Mob Crawl
" in downtown
Dexter
on Saturday to support businesses after a
tornado swept
through the city March 15.
The purpose: give back to the many businesses that donated time, money and other products in an effort to help rebuild the shaken community.
The event begins at 10 a.m. on Saturday in the Monument Park gazebo in downtown Dexter. As a group, participants will then descend upon downtown businesses, spending money along the way.
"No single business will be singled out," according to a release. "All the businesses have pitched in and should be supported."
Paul Hickman founded the Ann Arbor Cash Mob earlier this year following a trend of cash mobs popping up nationwide. Typically, the mob plans a monthly visit to one retail store and one restaurant on a specified date to boost a local business' sales.
The Ann Arbor Cash Mob has already visited Acme Mercantile, Morgan & York, Encore Records, Jerusalem Garden, Old Town Tavern and Fraser's Pub.
But for the Dexter event, Hickman said it was too difficult to choose a single business to support.
"What became apparent right away, particularly to all those people who live in Dexter, they didn't want to pick one [business]," he said. "They felt they needed to support everybody because all the businesses supported them."
Hickman said the mob crawl will give people a chance to see business owners face-to-face and thank them for supporting the community by "re-infusing cash back into their businesses."
"It's supporting businesses that don't see the financial aid the homeowners get via the state or the insurance or the donations," he said. "But they're the ones who were immediately out there giving their own dollars and products for free to the homeowners."
At the last Ann Arbor Cash Mob event -- which supported Encore Records and Jerusalem Garden -- Hickman estimated roughly 30 people showed up throughout the day.
For the Dexter event, he's hoping at least 50 to 100 people will join at 10 a.m., with even more people trickling throughout the downtown area the rest of the day.
"The homeowners in Dexter," he said, "I think we'll get a huge outpouring from them. That's my hope."
Lizzy Alfs is a business reporter for AnnArbor.com. Reach her at 734-623-2584 or email her at lizzyalfs@annarbor.com. Follow her on Twitter at http://twitter.com/lizzyalfs.