Posted on
Thu, Jan 21, 2010 : 6 a.m.
Ann Arbor educator starting Michigan's 1st high school for students with autism, Asperger's
By Paula Gardner
Ann Arbor will be the location of the first private high school in Michigan offering college-prep curriculum exclusively to students who have high-functioning autism and Asperger's Syndrome.
Veritas Christi High School will open in September, said founder Richard Nye.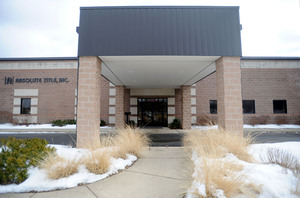 Angela Cesere | AnnArbor.com
And while the goal is to establish a rigorous education environment for a specific group of teens, "we really want it to be inclusive," Nye said. "We're not limiting it to those two groups."
The school's foundation bought the Absolute Title building at 410 S. Maple in late December. The 12,000-square-foot building is located next to the Kroger on South Maple between Jackson and Liberty on the city's far west side.
Buying the building, Nye said, was the first step toward establishing a multi-building campus, including gymnasium, lab space and performing arts facilities.
"This is a need that's been around quite a while," Nye said. "This population of students needs a … small school setting with very, very small classes… and expert faculty."
Autism is a neurological disorder that affects communication and social interaction, and sometimes cognitive ability.
Asperger's Syndrome also affects social interaction, so kids who have it can miss the typical social cues - they may avoid eye contact, have trouble starting a conversation or talk incessantly about a single favorite topic. They also can have delayed motor development and, like those with autism, prefer sticking to a routine.
More than 7,000 children in Michigan were diagnosed with autism in 2003, according to a national study from that year, and experts say the incidence continues to grow. An estimated 1.5 people in the United States have the disorder.
Veritas Christi, a nondenominational faith-based school, will target "high-functioning" teens who need the intellectual stimulation of the classroom in an environment where they won't feel different.
That's one reason why Nye chose the school's name.
"We put 'high school' in our title on purpose," he said. "We kept autism and Asperger's out of our literature."
The children who would attend Veritas Christi should thrive in a school tailored to their particular needs, Nye said. But they also want a typical high school setting without feeling labeled as different.
Nye, an educator for 40 years, has a 16-year-old grandson in Florida "who should be in a special school, but he wants to go to a high school."
So he's trying to create that environment with Veritas Christi. "There would be no stigma to coming here to school," Nye said.
The building will hold 75 students, Nye said, and the first year will start with 9th and 10th grades. Enrollment is beginning this winter, and hiring will start by spring.
"We've be a very small educational community, at least to start with," Nye said.
The school will fill an educational void that extends across the U.S., said Sally Burton-Hoyle, professor of special education at Eastern Michigan University and director of the Autism Society of Michigan from 1994-2006.
"There are pockets of excellence all over the state," she said about existing school systems and their approaches to students diagnosed in the autism spectrum. However, schools designed for students with the disorders are rare.
"We've not been able to ever point to a (place and say) go here, go there, and have it be the kind of place that would support people with Asperger's," she said.
It's particularly important for teens, who in a typical school setting may not be accepted for their strengths - like focusing very intensely on certain topics or talking a lot about them.
"Hopefully, kids will walk in and know it's a place where they can feel accepted," Burton-Hoyle said. "If not, their anxiety goes up and their ability to perform at where they should be goes way down."
The building will be remodeled in time for school to start in the fall. But it won't require much work for the first couple of years, said architect Richard Mitchell of the firm Mitchell & Mouat of Ann Arbor.
"The building is actually in pretty good shape," he said. "…There isn't a lot of expense for remodeling."
Mitchell, who designed Skyline High School in Ann Arbor and is on the Veritas Christi Foundation Board, said the focus of Veritas Christi requires a different approach in classroom design.
Mitchell and his team will spend a year observing how the teachers interact with the students before making permanent changes.
He knows smaller classrooms will be likely. So will seminar-style teaching rooms instead of rows of chairs facing a "teaching wall."
"We're gong to see what the teaching styles are … and educate ourselves as to the programmatic needs in the building," Mitchell said. "We'll tailor the spaces to that."
Nye started his quest to open the school with the search for land to build a new school, he said. But he soon learned that construction costs would have been too high.
The building on South Maple wasn't on the market, but broker Charlie Koenn of Swisher Commercial approached the owners of Absolute Title when he realized it could be a good fit. Now the title company, in turn, will move into its new building on West Liberty by April.
Nye considers the location perfect. He also values its location in Ann Arbor, where it has proximity to the University of Michigan and Eastern Michigan University.
Starting the school will cost about $4 million, Nye said, with funding through the school's foundation. He's been building a list of potential students.
Mitchell describes the potential student base as "a student group that doesn't really have a home."
Nye is happy to be changing that.
"We are looking at having or alumni come back and say, 'We loved being here and you helped us out a lot.'"
Paula Gardner is business director of AnnArbor.com. She can be contacted at PaulaGardner@AnnArbor.com or 734-623-2586.