Posted on
Sun, Sep 8, 2013 : 5:59 a.m.
New connected vehicle research center could propel region to national spotlight, SPARK CEO says
By Lizzy Alfs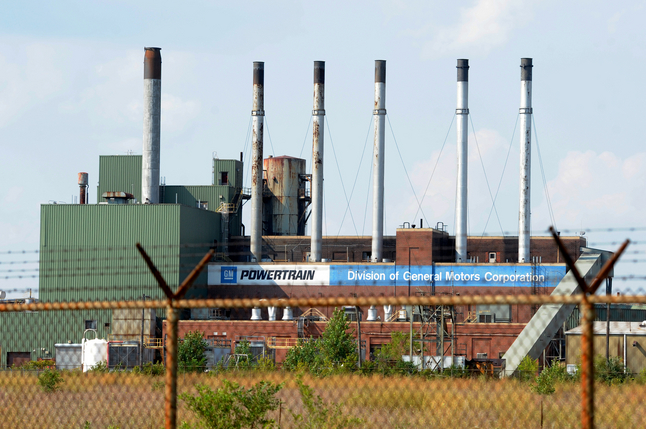 Melanie Maxwell | AnnArbor.com
Related story: Connected vehicle research center slated for former Willow Run plant
Developing a connected vehicle research center on the site of Ypsilanti Township's former Willow Run GM Powertrain plant could be a game-changer for Washtenaw County, said Ann Arbor SPARK CEO Paul Krutko.
For Ypsilanti Township, it's an opportunity to reactivate a 332-acre property that contains the historic Willow Run plant, boost the tax base and bring thousands of jobs to the township.
For southeast Michigan, it's a chance to ensure the region remains at the forefront of automotive research and technology at a time when the industry is rapidly changing.
"(Southeast Michigan has) a lot of companies that are actively engaged in information technology as well as automotive research," Krutko said. "I think having this kind of facility would draw the best and brightest from around the world. I think it would be a great attraction."
Officials announced on Thursday that Detroit-based Walbridge Development LLC plans to purchase a majority of the former Willow Run plant property and build a test track for connected vehicles with R&D facilities.
Connected-vehicle technology allows sensor- and computer-equipped vehicles to communicate with each other and outside devices such as traffic signals or electronic signs to prevent collisions and improve traffic flow and fuel efficiency. The University of Michigan's Transportation Research Institute is conducting a major connected vehicles study in a contract with the federal government.
Krutko said the connected vehicles plan for the former Willow Run plant, which was facilitated in part by SPARK, has been in the works for months. SPARK created a case report in early 2013 about the need for a world-class connected vehicles test facility in southeast Michigan.
"We had the University of Michigan talking to us about all the connected vehicle work they are doing with the pilot going on, and we meet regularly with Toyota and Hyundai," he said.
"We need to get our arms around this because other regions of the U.S...are doing work with driverless cars. What happens next with transportation really is our legacy, and not other communities' legacy. If we don't do something, (other regions) will become the center of automotive research in the future."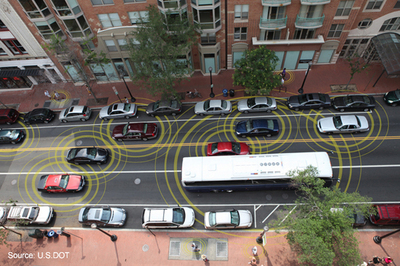 USDOT Photo
The Ypsilanti Township property has been on the market for redevelopment since 2011. RACER Trust, the group charged with liquidating GM's holdings and cleaning up environmental contamination at 89 sites across 14 states, has been marketing the property.
Bruce Rasher, a redevelopment manager for RACER Trust, said Walbridge has entered into a written agreement with the trust to take ownership of the property once the 4.6 million square foot plant on the site has been demolished and the environmental contamination is removed.
"Walbridge has had preliminary discussions with potential users of this facility," Rasher said. "We reached the point that the interest was serious enough that it would be prudent to give this control to Walbridge."
The process to redevelop the site could take years, and Walbridge would first need to enter into a development agreement with Ypsilanti Township. RACER Trust has the right to review the plans, Rasher said.
Krutko said Walbridge, or another entity, could then create an open environment where different types of companies could lease parts of the facility for research and development purposes.
"We want to create an environment in which many, many companies — large and small, early-stage to mature — would then be able to use this research facility. We could see automotive suppliers, technology companies, or (original equipment manufacturers) themselves booking a period of research time at the facility."
"University of Michigan has been key contributors to thinking about this opportunity. At some point in the future, if this is a reality, it may be that U-M would consider at some point conducting some of its research there."
Stephen Forrest, U-M's Vice President for Research, said the university is building a separate track to test connected vehicles in Ann Arbor.
Forrest called the proposed Willow Run redevelopment "a very synergistic and important development" for U-M and one that would help make southeast Michigan a hub of connected vehicle research.
"If Michigan can be the center of this, that's going to make a huge difference to the country, to the region," Forrest said. "It will give a rebirth to our automobile industry that we cold only have dreamt about several years ago."
He added: "I am sure that any plan that comes out of there will have significant involvement from the university."
Krutko said the facility at the Willow Run site would have roadways and simulated city environments where vehicles could be tested in a controlled environment. SPARK's case report contains a conceptual site plan that says the facility could have realistic lane markings, simulated tunnels, buildings of varying scales, realistic infrastructure and roundabouts.
The conceptual site plan — which Krutko said is just an example of what could be done with the connected vehicles facility — suggests there could be 12 buildings on the site with a job creation potential of 1,950 people. The estimated construction investment listed in the plan is $90 million.
"There's a lot to do and there's a lot that could go wrong, but I think we've stepped on a journey now that has a goal and a plan in mind that creates a very dramatic future, a different future, than what has been at that site now for a decade," Krutko said.
Lizzy Alfs is a business reporter for AnnArbor.com. Reach her at 734-623-2584 or email her at lizzyalfs@annarbor.com. Follow her on Twitter at http://twitter.com/lizzyalfs.