Posted on
Sat, May 1, 2010 : 5:51 a.m.
Ann Arbor's FOUND: A Kerrytown store to get lost in
By Angela Smith
photo courtesy of FOUND
Vintage is the new green, says Mary Cambruzzi, owner and self-dubbed finder of FOUND.
FOUND is a funky boutique in Ann Arbor's Kerrytown that is full of art, jewelry, and one of a kind gifts, many of which are made from recycled and found materials. She knows people can easily decorate and find items they like at big name retailers, but there are concerns that those items are imported and not generally well made. "When you can reuse it's so much better," Cambruzzi explains.

Where does Cambruzzi find the items for FOUND? 
She says she finds a great deal of the store's merchandise at estate sales and antique shows. She has an eye for collections that complement each other and sell well, and has always enjoyed finding vintage treasures. 
"This store is kind of a dream of mine; growing up we always had art supplies and experiments. My mother had a good eye and would say if it doesn't move paint it." 
Many of the items she features are reminiscent of items she remembers her grandparents having, but redone in a fresh way.
Many customers at FOUND are struck by memories of easier times when they see the old fashioned games like a collection of Cat's Eye Marbles, or  milk bottle caps.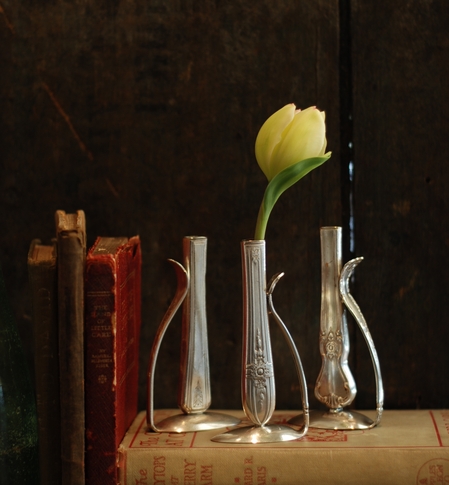 photo by local photographer Jenny Murray
The store's most successful art piece has been a one-of a kind
Fork Art by Ann Arbor Artist John Marchello
. The artist uses vintage silverware to create angels and bud vases that are
truly unique
. Each sculpture is signed and dated. Cambuzzi sees lots of out of towners coming in searching for a perfect, artsy, out of the ordinary souvenir from Ann Arbor, and says these bud vases are just the thing, $25 for a piece of local art as unique as our city.
But not everything at FOUND is from days gone by. The store stocks a selection of new gift items like soy candles, skin care products, and art supplies.
The boutique opened 5 years ago, and Cabruzzi admits it was "started at probably the worst time to start a business." 
After FOUND opened, Pfizer's move and the economic downturn had a lot of Ann Arbor small business owners knuckling down and working harder during the roughest months. Cambruzzi says she was careful to keep costs in line and feels confident that the store's first five years have been a solid start and that the next five will be even better.
To celebrate the anniversary, FOUND is holding a contest during the month of May.
 "For 5 years creative people have been walking though our doors and carrying home an odd assortment of vintage "treasures". I get a big kick out of knowing that I can bring in dozens of clock parts or rusty old springs or faucet handles or creepy antique doll heads or tattered books...just because I think they're neat...and someone who has an "upcycling" idea will come up the stairs and buy them. What do you guys DO with this stuff???" 
Cambruzzi is hoping folks will submit photos of their repurposed finds to be eligible for a $50 gift card and other treasures. Check the FOUND blog for more details.
Lead Shopping Blogger Angie Smith will hunt for deals and dish on the latest in retail and business news in Ann Arbor. Readers will attain notices of great deals and store happenings in and around the city. To report a news item or tip contact her at angieannarbor@gmail.com.