Posted on
Thu, Jan 12, 2012 : 5:59 a.m.
Ann Arbor's Restaurant Week 'all about exposure' for businesses
By Lizzy Alfs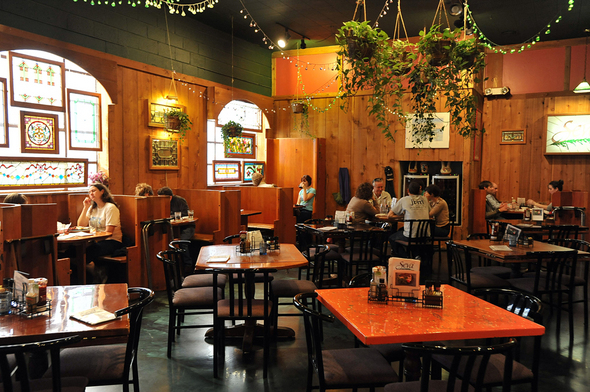 Angela J. Cesere | AnnArbor.com
As diners prepare to descend upon the Ann Arbor area during the 6th semi-annual
Restaurant Week
, many businesses are looking forward to the increased customers and exposure the event brings.
The event - which was launched 2009 by the Main Street Area Association - is taking place Jan. 15-20.
There are 49 participating restaurants, more than double since Restaurant Week began in 2009, and customers can get a $12 two-course lunch and $25 three-course dinner prix fixe menus. Many restaurants also offer two-for-one pricing.
Although Restaurant Week began as a way to draw more people to the downtown area during the January lull and mid-summer season, it has since expanded to other Ann Arbor areas.
Among the new participants: Gandy Dancer, Passport Lounge, Satchel's BBQ and Graham's Restaurant.
Maura Thomson, director of the Main Street Area Association, said it made sense to expand Restaurant Week outside of downtown because it was generating a huge amount of interest.
"Our mission is to keep our downtown vibrant and healthy, but over time we realized that we were calling it Ann Arbor Restaurant Week and the larger the event, the more promotion we're getting," she said.
Eric Pederson, manager at Passport Lounge, said Passport joined the list of participating restaurants this year as a way to draw new customers into the restaurant, which is located on South State near Ellsworth Road in Pittsfield Township.
"This is all about exposure," he said. "We're reaching out to new avenues and getting a new customer base in here. Hopefully, we'll win them over to have them back in the restaurant."
Seva owner Maren Jackson agreed: Restaurant Week gives Seva a chance to reach outside its regular clientele.
"We have a large and loyal clientele because we've been here for so long," she said, "but I think that some people might not think about going to eat at Seva because they're not vegetarian.
"If they see that there are these advertised specials, maybe they'll think it's worth trying out."
Jackson has also learned to alter the deal based on the season. During the summer promotion, Seva offers a lighter meal with two-for-one pricing, but during the winter it offers a three-course meal with wine at $25 per person.
She said the week generates a lot of business, particularly on Sunday and Friday.
"Sunday is crazy for us because we also offer brunch, and then the last day on Friday is the busiest day because people realize it's the last day of Restaurant Week," she said.
Two and half years after launching the event, Thomson said she considers it a success at drawing more people downtown, particularly during lunchtime.
"If you go into restaurants in January at lunchtime, it's not too difficult to get a table," she said. "I think this week you'll see that [restaurants] are really busy."
Jon Carlson, a partner in several downtown Ann Arbor restaurants such as Grizzly Peak Brewing Company, Jolly Pumpkin, Blue Tractor and Cafe Habana, agreed with Thomson and said the winter Restaurant Week is particularly beneficial.
"Summer has higher volume, but the winter one is the best since it's a little bit slower in January, traditionally," he said.
As for the future of the event, Thomson said she hopes it continues to grow in popularity but isn't sure how many restaurants can join the participants.
"Is there a tipping point? We don't want so many restaurants that restaurants aren't seeing the volume they need to see," she said. "We'll keep monitoring the event and getting feedback from restaurants."
For a full list of participating restaurants and menus, check out the Restaurant Week website.
Lizzy Alfs is a business reporter for AnnArbor.com. Reach her at 734-623-2584 or email her at lizzyalfs@annarbor.com. Follow her on Twitter at http://twitter.com/lizzyalfs.