Posted on
Mon, Jan 23, 2012 : 1:18 p.m.
Ann Arbor's 'underperforming' Old Country Buffet closes after bankruptcy filing
By Lizzy Alfs
The Old Country Buffet in the Cranbrook Village shopping center on Eisenhower Parkway in Ann Arbor closed last weekend after its parent company, Buffets, Inc., filed for Chapter 11 bankruptcy for a second time.
Minnesota-based Buffets announced in a press release Wednesday it plans to "promptly close 81 underperforming restaurants" as part of a restructuring plan. It released a list of the underperforming locations on Friday, which included the long-time Ann Arbor location.
Additional locations may close if "more favorable lease arrangements" with landlords at other restaurant locations cannot be reached, according to the release.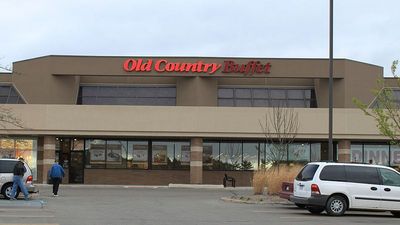 Photo by Dwight Burdette via Wikipedia
Tom Goldberg
, an owner of the Cranbrook Village shopping center, which is anchored by
Whole Foods Market
, confirmed that the Ann Arbor restaurant closed over the weekend in what he calls a "middle of the night kind of thing."
The restructuring plan will eliminate the company's outstanding debt of about $245 million, as well as annual interest payments of more than $30 million, according to the release. Buffets hopes to complete the process and exit Chapter 11 within about six months.
"The decision to close these underperforming restaurants, though difficult, resulted from a comprehensive, store-by-store analysis of financial performance, occupancy costs, market conditions and the long-term strategy of our reorganized restaurant portfolio," said CEO Mike Andrews in the release.
Buffets also filed for Chapter 11 bankruptcy in early 2008, when it closed 52 restaurants and laid off 2,300 employees.
The 81 store closings represent about 16 percent of the company's 494 restaurants in 38 states. One other Michigan restaurant, located in Southgate, closed over the weekend.
Goldberg said he was given no warning of the company's filing until he received a notice on Thursday.
"It came right out of the blue," he said.
Although the closing creates a 9,000-square-foot vacancy in the shopping center, Goldberg said he isn't concerned about the now empty space. Last week, the Papa Romano's pizza franchise in the center also closed.
"Even before they closed the door behind them, there has been lots of activity for that space and plenty of tenants who want to get in the Ann Arbor market," he said. "It's one of the more desirable spaces in our portfolio…I think it will be leased in the next 30 to 60 days."
He added: "It will be a good tenant and a better tenant than the one that left…I think the concept was tired and old."
He said he's unsure if the space will be leased to one tenant or subdivided.
Lizzy Alfs is a business reporter for AnnArbor.com. Reach her at 734-623-2584 or email her at lizzyalfs@annarbor.com. Follow her on Twitter at http://twitter.com/lizzyalfs.