Posted on
Mon, Aug 6, 2012 : 2:42 p.m.
Another Tim Hortons: Chain signs deal to open store on Ann Arbor-Saline Road
By Lizzy Alfs
Canadian coffee shop chain Tim Hortons signed a deal last week to open in the revamped Shell gas station on Ann Arbor-Saline Road.
Gas station owner Abraham Ajrouch told AnnArbor.com on Monday that Tim Hortons will occupy about 1,100 square feet of the 4,089-square-foot gas station, which is located at 2679 Ann Arbor-Saline Road.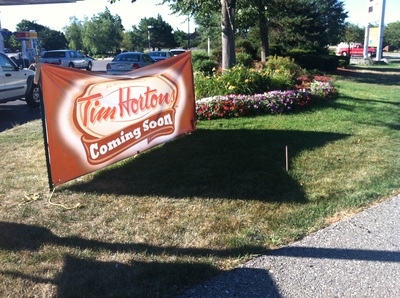 Lizzy Alfs | AnnArbor.com
Ajrouch received approval from the Ann Arbor City Council in July to go ahead with expansion plans for the station, which includes constructing an addition, converting a 900-square-foot car wash area into new retail space and reconfiguring the 9-space parking lot for a new total of 16 spaces.
Plans include a 22-foot-wide access drive off the northern reconfigured parking area to link to the Cranbrook Village shopping center, where Whole Foods and REI are located.
Construction currently is under way at the site, and Ajrouch said he hopes to complete the project by mid-September. "Tim Hortons Coming Soon" signs went up at the site over the weekend.
"We just finalized the (Tim Hortons) deal last week," Ajrouch said. "I've been working on it for a long time. I mentioned we were going to open a coffee shop, and I was looking into different companies."
Ajrouch said he surveyed customers at his gas station to find out which coffee shop they'd like to see open on Ann Arbor-Saline Road.
"A lot of people wanted to see a Tim Hortons here," he said.
Plans do not include a drive-thru lane, he said.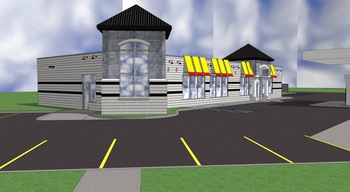 Photo from Abraham Ajrouch
Ajrouch told Ann Arbor City Council in July he wanted to get out of the car wash business because it just isn't profitable anymore. He called his Shell gas station the "gateway to Ann Arbor" and said it will be a "beautiful building" once the project is completed.
This is the sixth Tim Hortons deal in Washtenaw County since Aug. 2011. The chain, which has 4,042 company-operated and franchised stores, is rapidly expanding its southeast Michigan footprint.
Including its existing stores on Michigan Avenue in Ypsilanti Township and Michigan Avenue in Saline, Tim Hortons plans to open in the following locations:
The first floor of Landmark student high-rise in downtown Ann Arbor.

At the site of the former Enzo's at the northeast corner of State and Ellsworth roads. Ann Arbor City Council approved the store's site plan in April.

In Maple Village at the site of the former Golden Chef Restaurant. No site plans have been submitted yet for this location, according to City Planner Matt Kowalski.

A vacant lot at the corner of Hewitt Road and Washtenaw Avenue in Ypsilanti Township.

Near the corner of James L. Hart Parkway and Huron Street in Ypsilanti Township, just south of Interstate 94.
So what's the next move for the chain?
A Tim Hortons representative could not be reached for comment, but it's likely a few more stores could pop up in the area in the coming years — a real estate manager for the chain told AnnArbor.com last year the company isn't capping its local expansion plans.
"We haven't set a specific number," Eric Ramsey said. "We are looking at different areas."
Lizzy Alfs is a business reporter for AnnArbor.com. Reach her at 734-623-2584 or email her at lizzyalfs@annarbor.com. Follow her on Twitter at http://twitter.com/lizzyalfs.