Posted on
Wed, Feb 15, 2012 : 12:25 p.m.
Belgian waffle restaurant and coffee shop to open in downtown Ann Arbor
By Lizzy Alfs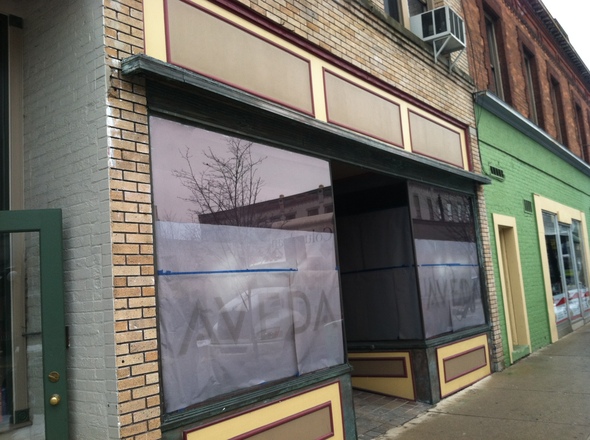 Lizzy Alfs | AnnArbor.com
An Ann Arbor native with a love for waffles recently signed a lease to open a new restaurant and coffee shop on Fourth Avenue in downtown Ann Arbor.
Wafel Shop's specialty: two different types of Belgian waffles with an extensive selection of toppings. It will also serve coffee drinks from local roasters and other beverages.
Noah Goldsmith and his business partner, Rob Daly, signed a lease in January for the 1,040-square-foot space at 217 S. Fourth Ave., formerly the A2 O'Hair salon. Michael Yi owns the building.
Goldsmith, who grew up in Ann Arbor and attended Community High School, said the idea for the Wafel Shop stemmed from his trip to the Netherlands while he was studying abroad in college.
"I had waffles unlike any I had ever had before," he explained. "And I never found anything else like that, so after a couple dozen attempts at different recipes to hone it on my own, I was finally able to get it pretty close to what I had in the Netherlands."
Wafel Shop will serve two different types of waffles: the Brussels waffle - with a fluffy interior and crispy exterior - and the Liege waffle - a dense, sweet waffle with chunks of pearl sugar on the inside.
Goldsmith said there will be an array of toppings people can choose from, including dulce de leche, Belgian fudge, homemade whipped cream, locally-sourced fruits, nuts and a ginger cookie spread. There will also be coffee and juices.
"It's pretty straightforward in terms of the beverage menu," he said. "We're sticking to the mission of being a waffle shop that serves coffee, rather than a coffee shop that serves waffles."
The goal, he said, is to attract customers all throughout the day, not just during breakfast. Wafel Shop's tentative hours are 7 a.m. to 10 p.m.
"I think it's a great spot to pick up food on the way to work and to hang out and get work done on the computer," he said. "But we'll also be open late into the evening and we're hoping people will forgo some of the great desserts in the Main Street area and come over to us for a late-night waffle."
Renovations are underway at the shop and Goldsmith is aiming for an April opening date. He said he'll likely hire four additional employees.
He said the space is already very "attractive" with exposed brick walls and high ceilings. Detroit-based Kraemer Design Group is working on the project.
"This space has a very classic feel to it," he said. "We're keeping the space and character pretty much as it is."
But aside from the quality of the space, Goldsmith said he's always felt passionately about downtown Ann Arbor and Fourth Avenue in particular.
"I grew up in Ann Arbor, went to Community and spent a lot of time downtown," he said. "I've always loved Fourth Avenue and I think there is a really, really great and vibrant community of businesses there."
Building owner Yi agreed and said Wafel Shop will help to attract more people to the area.
Although Goldsmith acknowledged "notable" turnovers in downtown Ann Arbor businesses in recent months, he added: "I think there are also a lot of great success stories people forget about."
Along with local businesses Logan, West End Grill and Espresso Royale, Goldsmith pointed to his first job, which was at Zingerman's, for teaching him about important business lessons.
"It's not enough to deliver great food, great coffee and a great environment," he said. "You really need to deliver that service as well, and I think the Ann Arbor consumer is very conscious of that."
Lizzy Alfs is a business reporter for AnnArbor.com. Reach her at 734-623-2584 or email her at lizzyalfs@annarbor.com. Follow her on Twitter at http://twitter.com/lizzyalfs.