Posted on
Fri, Feb 17, 2012 : 3:32 p.m.
Bob Lutz: Clean energy must become viable without government subsidies
By Nathan Bomey
Auto industry veteran and Ann Arbor area resident Bob Lutz, a former vice chairman of General Motors, said today in Ann Arbor that clean energy technologies must become financially viable without government support.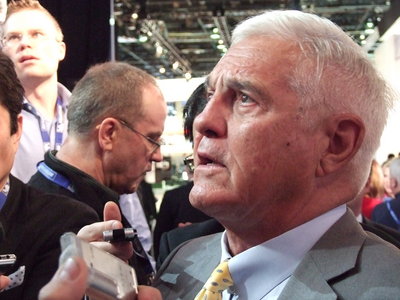 Nathan Bomey | AnnArbor.com
Lutz, citing the collapse of solar firm
Solyndra
as an example of "$500 million down the rat hole," said subsidies won't last.
"Clean energy must, at some point, for long-term success, be the most efficient solution," he said. "It cannot exist forever on government subsidies and mandates. It just can't."
He added: "Folks, that is not going to last because for something to be viable over time, it has to produce economic value. Otherwise you're doing it all for the wrong reasons."
Lutz championed the development of the extended-range electric Chevrolet Volt while serving as a product development leader for the Detroit-based automaker. He's also come under fire at times for controversial remarks about climate change and oil policies, but he said today that he's an avid "proponent of clean energy."
Lutz, speaking at an event organized by the University of Michigan College of Engineering's Center for Entrepreneurship, said the electrification of the automobile will be "gradual" but is inevitable.
The Switzerland native, who turned 80 on Sunday, also slammed "the self-serving right-wing talk show windbags like Rush Limbaugh," Bill O'Reilly and Lou Dubbs as ill-informed about the Volt.
The Volt came under scrutiny in late 2011 after the National Highway Traffic Safety Administration launched an investigation into the safety of the Volt when the vehicle caught on fire three weeks after a crash test in the lab. NHTSA, which did not follow standard safety procedures for a semi-electric vehicle after the crash test, later declared the Volt to be safe.
But some Republicans used the incident to criticize President Barack Obama, accusing the administration of spending government dollars to push the Volt.
Lutz expressed regret that the Volt had become a "political punching bag."
"The amount of misinformation was really disturbing, to say the least," Lutz said. "So that was an unfortunate incident. It hurt the car, but that too shall pass. The Volt will survive and justifiably become a landmark vehicle."
Lutz, revealing details of the NHTSA crash test, said the Volt slammed into a pole severely during the test — and that the crash was so severe, "probably no occupant would have escaped alive."
After the test, he said, the agency rolled the car on its right side for five minutes, onto its roof for five minutes and onto its left side for five minutes before returning it to the upright position. During that process, he said, fluid leaked, "got into the top of the battery" and three weeks later the fire ignited.
Speaking to a crowd of a few hundred students, including many who competed in the Michigan Clean Energy Venture Challenge, Lutz said oil and natural gas discoveries in the U.S. and Canada would make the nation "independent of foreign oil" within five years.
That means that renewable sources of electricity "cannot compete head on with fossil fuels over the next 20 years economically," Lutz said. "That's the tough truth and nobody wants to hear it."
But he said the price of fossil fuels would continue to rise over time as demand increases in developing nations like China and India, making renewables necessary.
"The demand in the rest of the world is going to rise so fast," Lutz said.
Lutz also:
--Revealed that Jon Lauckner, president of GM Ventures, would be named as a top GM executive for research and development.
--Said electric vehicles were "inherently more efficient" thermally than internal combustion engines.
--Said lithium-sulfur technology is about five years away from being integrated into vehicles while lithium-air technology is about 10 years away.
--Projected that U.S. sales of electric vehicles would reach 1 million to 2 million within 10 years. That compares to overall annual vehicle sales of 12 million to 15 million.
"The future is electric, but gasoline will be around for the foreseeable future. That's a future that, any way you slice it, looks a lot of brighter to me for the folks like you," he told students.
Contact AnnArbor.com's Nathan Bomey at (734) 623-2587 or nathanbomey@annarbor.com. You can also follow him on Twitter or subscribe to AnnArbor.com's newsletters.