Posted on
Mon, Dec 6, 2010 : 9:39 a.m.
Borders could acquire Barnes & Noble under shareholder's proposal
By Nathan Bomey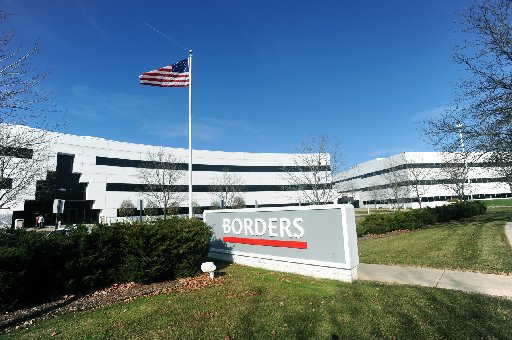 File photo
(This story has been updated several times with additional information.)
One of Borders Group Inc.'s largest shareholders has proposed a bid to acquire brick-and-mortar book store chain competitor Barnes & Noble, according to a filing with the Securities and Exchange Commission.
Bill Ackman, who now owns about 37 percent of Ann Arbor-based Borders through his New York hedge fund Pershing Square Capital Management, said he would help Borders (NYSE: BGP) fund an acquisition of Barnes & Noble (NYSE: BKS) at $16 a share — a premium of about $2.50 from where it closed Friday. Alternatively, he said he would also help structure a bid that would include stock and cash.

Investors cheered the deal. Shares of Barnes & Noble stock rose 10.6 percent to close at $14.69, though that was down from $15.47 minutes after the market opened. Borders' stock got a 28.7 percent boost, rising from $1.08 to close at $1.39.
It's unclear how the acquisition could play out, whether the two brands would be operated independently or whether the brands would be merged.
Borders' executive leadership is responding positively to the proposal.
"We can confirm that Mr. Ackman has shared with Borders his perspective that a business combination of Borders and Barnes & Noble could create significant synergies," Borders said in a statement. "We can also confirm that Mr. Ackman has expressed his willingness to provide financing for such a transaction, and we welcome his participation. We have previously expressed to Barnes & Noble our interest in such a business combination, and we look forward to continuing those discussions."

Ackman has previously said he believed that in the long term, Barnes & Noble and Borders could be merged to ensure their survival.
Jim McTevia, managing member of Bingham Farms-based restructuring consultancy McTevia & Associates, said the acquisition would likely result in the survival of just one brand -- and that it would almost certainly be Barnes & Noble.

McTevia, recent author of "Culture of Debt: How a Once-Proud Society Mortgaged Its Future," said a merger between both companies makes sense from a strategic and financial perspective.
"It's a necessary first step in the survival of Barnes & Noble, and I've always said that Borders is ultimately going to go by the wayside," he said. "It's just not in the cards that the two giants are going to stand toe by toe and hit each other over the head. Sooner or later one of them is going to crumble."
Not everyone thinks the merger makes sense. Michael Norris, a publishing analyst with Maryland-based Simba Information, told Michigan Radio that the idea is "complete bonkers."

How an acquisition could affect Borders' corporate headquarters in Ann Arbor, where the firm employs about 600 workers, also remains to be seen.
But Borders is widely viewed as the company with the weaker balance sheet and revenue stream. The firm has struggled to stem a streak of losses and narrowly averted bankruptcy during the financial crisis of late 2008 and early 2009.
McTevia said a merger would lead to big cuts in personnel and store locations for both companies.

"There's going to be some very serious cost-cutting as far as personnel is concerned," he said.

A merger would give the book store chains increased pricing power. Right now, both companies are falling behind as consumers favor the intense price war between
Amazon.com
,
Walmart
,
Target
and other big-box chains.
It would also give them more muscle to compete in the emerging electronic books market. Barnes & Noble sells an e-reader it developed, a device called the Nook, while Borders sells several devices with an emphasis on the Kobo e-reader.
Combining both companies would give both companies a chance at sustained profitability, McTevia suggested.
"The whole landscape of bookselling is changing, and it's changing dramatically," he said. "There will always be those people who want to physically go into a book store and browse. I'm the biggest browser myself."
In February, as speculation swirled about Borders' future, Ackman assured investors that he saw bankruptcy as an unlikely scenario for the firm.
"It may become part of an industry consolidation at some point, or it may survive as a standalone company," Ackman
told CNBC at the time
.
Borders, which has conducted two sets of layoffs this year at its Ann Arbor headquarters, employs about 19,500 workers at 500 superstores and another 100 smaller stores globally. Barnes & Noble has about 40,000 employees at more than 1,300 stores.
Borders' sales have been
on a continuous slide
with no sign of a turnaround. In its second fiscal quarter, which ended July 31, Borders reported that its sales slipped 11.5 percent to $526.1 million. Sales at stores open at least a year declined 6.8 percent over the same period, and the company reported a loss of $46.7 million.
Borders is expected to report its third quarter earnings on Thursday.
Contact AnnArbor.com's Nathan Bomey at (734) 623-2587 or nathanbomey@annarbor.com. You can also follow him on Twitter or subscribe to AnnArbor.com's newsletters.