Posted on
Thu, Jan 6, 2011 : 6:04 a.m.
Borders Group bankruptcy filing may be inevitable, University of Michigan expert says
By Nathan Bomey
A top bankruptcy expert at the University of Michigan Law School said recent events indicate Ann Arbor-based Borders Group Inc. is toppling toward a bankruptcy filing or a merger with competitor Barnes & Noble.
"One of those things will happen within the next few months," U-M law professor John Pottow, a national bankruptcy expert, said in an interview. "The amount of losses they're incurring is not something where they can avoid (restructuring)."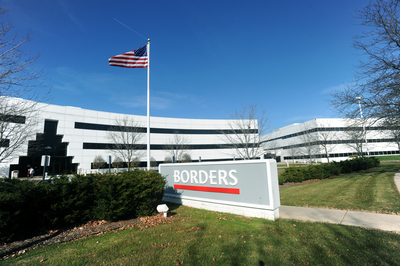 Photo by Lon Horwedel | AnnArbor.com
Borders' challenges are mounting as the company enters the most difficult time of the year for book store chains: the months after the holiday shopping season.
The company, which lost $74.4 million in its 2010 third quarter, is actively seeking new bank financing and trying to restructure vendor payment agreements to avoid running out of cash.
Borders spokeswoman Mary Davis said in a statement that if Borders can't find new financing, that "could cause the company to violate the terms of its existing credit agreements in the first calendar quarter of 2011 and the company could experience a liquidity shortfall."
Borders accounted for about 8.7 percent of physical book sales in 2010, down from 11.4 percent in 2006, according to a Goldman Sachs report cited by Reuters.
Investors seem to be losing confidence in the company's ability to survive without delving into a restructuring of some kind. Borders stock (NYSE: BGP) closed at $0.86 on Wednesday, down 26 percent since the firm acknowledged Dec. 30 that it was delaying payments to some publishers.
Pottow said a Chapter 11 bankruptcy filing would carry benefits for Borders, whose extensive real estate footprint includes more than 500 super stores and annual rent obligations of about $562 million, equal to about one-fifth of total revenue.
"It can get them out of a lot of leases if they want to lose stores faster," Pottow said.
Jim McTevia, a restructuring expert at Bingham Farms-based McTevia & Associates, said Borders is undoubtedly consulting bankruptcy specialists to prepare for a possible filing. He said it's possible Borders will land new financing but that it wouldn't necessarily help the company avoid bankruptcy.
"They could get the new financing and get the refinancing and probably be able to delay an insolvency," he said. "But on the other hand, in the final analysis, if the company is losing money, nobody is going to put any more money into the company in the form of a loan unless they have bankruptcy court priority protection of a lender."
Still dangling as a possibility is a prospective merger with rival Barnes & Noble, which top Borders shareholder Bill Ackman of New York hedge fund Pershing Square Capital Management proposed in December. Ackman said he would be willing to help finance a Borders bid to acquire Barnes & Noble at $16 a share.
Analysts have largely expressed skepticism about a possible combination of the two book store companies because of Borders' poor financial situation and real estate commitments.
But Pottow suggested that if Borders files for bankruptcy, Barnes & Noble might swoop in to pick up the most enticing assets, including inventory and attractive store locations.
Under bankruptcy law, Borders would get six months to propose an exclusive plan for its reorganization, a plan the court would have to approve. Secured creditors would get priority over unsecured creditors, existing stockholders' equity would likely be wiped out, and the company's lease footprint would be slashed significantly, experts said.
Possible outcomes of a prospective bankruptcy filing include:
--Borders could successful make cuts to its lease obligations and convince lenders to accept equity in exchange for eliminating debt, finally emerging with a profitable business model. --The firm could sell off its assets to Barnes & Noble or another player like a private equity firm with a tolerance for a restructuring effort. Under this option, Borders could use the Section 363 provision in the bankruptcy code, a provision that allows the valuable assets to be packaged together so that they can be sold to an outside firm or emerge as a new company. In that scenario, the old assets would stay in bankruptcy and be liquidated. This is what happened during General Motors' 2009 bankruptcy filing, for example.
"Even if they decide they do want to merge with Barnes and Noble, they still may want to go through a prepackaged bankruptcy to scrub out some of these leases," Pottow said.
--The company could be forced to convert its Chapter 11 reorganization filing into a Chapter 7 liquidation, which would involve a sale of all of its assets and the death of the company.
Existing stockholders of Borders -- including CEO Bennett LeBow and Ackman -- have a significant interest in helping the company avoid bankruptcy.
"If I'm a major shareholder, I don't want the company to go through a bankruptcy. I want to avoid it at all costs," McTevia said. "We saw what happened to the shareholders of General Motors. When they went into bankruptcy court they got blown away."
One attractive aspect of a bankruptcy filing is that publishers who have stopped shipping books to Borders likely would be forced to resume doing so, Pottow said.
The publishing industry is skittish about the prospect of a major brick-and-mortar chain going out of business.
"If publishers wake up in a world without retailers that are committed to the future of books, they are going to be in serious trouble," said Michael Norris, an analyst with Maryland-based Simba Information.
Nonetheless, Norris said he doesn't think a merger between Barnes & Noble and Borders is a good solution.
"There is no circumstance I can think of that would make sense out of it," he said. "Any kind of combination of these two retailers would do absolutely nothing for the consumer, and I don't think it would do anything for the shareholders either."
McTevia said he thinks Barnes & Noble, albeit more financially healthy today, needs to consider acquiring Borders because of the long-term challenges of the industry.
Borders employs about 19,000 workers, including about 600 at its headquarters in Ann Arbor. Barnes & Noble is headquartered in New York.
The destiny for Borders' Ann Arbor employees is decidedly uncertain.
"My experience is when companies strategically merge in bankruptcy, they don't need two headquarters," Pottow said.
Contact AnnArbor.com's Nathan Bomey at (734) 623-2587 or nathanbomey@annarbor.com. You can also follow him on Twitter or subscribe to AnnArbor.com's newsletters.