Posted on
Fri, Feb 11, 2011 : 2:37 p.m.
Borders 'in final stages' of planning for bankruptcy filing
By Nathan Bomey
Ann Arbor-based Borders Group Inc. may file for bankruptcy protection as early as Monday or Tuesday, according to a report this afternoon by the Wall Street Journal.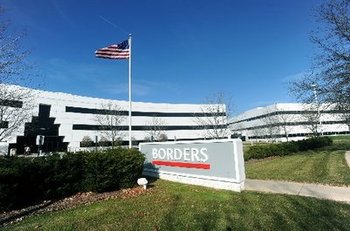 WSJ, citing anonymous sources, said a Borders' Chapter 11 bankruptcy filing would likely include a plan to cut about 200 stores. The book store chain currently operates about 500 superstores, including three in Washtenaw County, and another 170 small-format stores.
The firm, facing a precipitous drop in sales over the last several years, is in discussions with Bank of America and GE Capital to secure debtor-in-possession financing, WSJ said. That would allow the company to stay open during bankruptcy proceedings.
Borders is "in the final stages" of planning for a filing, the publication reported.
"There have been constant inquiries by reporters, and stories written, regarding whether Borders is considering a Chapter 11 filing," spokeswoman Mary Davis told AnnArbor.com in an e-mailed statement also being provided to other media. "Borders is not prepared at this time to report on the course of action it will pursue."
A bankruptcy filing would allow Borders to slash its store footprint by cutting leases before they were set to expire, a move analysts view as critical to the company's restructuring. Borders pays about $1 billion in annual lease obligations, more than 35 percent of its revenue.
But, due to inevitable uncertainties regarding the in-court restructuring process, a Chapter 11 bankruptcy reorganization filing eventually could be forcibly converted into a Chapter 7 liquidation filing if creditors refuse to agree on a restructuring plan.
Borders announced in early December that it would face a cash crunch in early 2011 if it could not obtain a new source of lending. Later that month, the firm started delaying payments to publishers in a bid to conserve cash.
On Jan. 27, Borders first acknowledged the possibility that it would have to file for bankruptcy.
Borders stock (NYSE: BGP) was trading at $0.28 at 2:37 p.m., down $0.09 on the day. A bankruptcy filing would likely wipe out the equity of Borders shareholders.
Borders, founded by brothers Tom and Louis Borders in Ann Arbor 40 years ago, employs about 550 workers at its Ann Arbor headquarters and another 106 at its three stores in the county. The firm has 19,000 employees overall.
Contact AnnArbor.com's Nathan Bomey at (734) 623-2587 or nathanbomey@annarbor.com. You can also follow him on Twitter or subscribe to AnnArbor.com's newsletters.