Posted on
Mon, Jan 23, 2012 : 6:28 p.m.
Downtown Ann Arbor's Parthenon Restaurant making way for Cafe Habana after sale
By Lizzy Alfs
The Parthenon Restaurant has been sold after nearly 40 years on one of downtown Ann Arbor's most visible corners.
The owners of Cafe Habana recently purchased the long-time Ann Arbor restaurant on Main Street. Now, they plan to move Cafe Habana into the Parthenon space. Cafe Habana had closed its former location on East Washington Street on Jan. 8 in preparation for the move.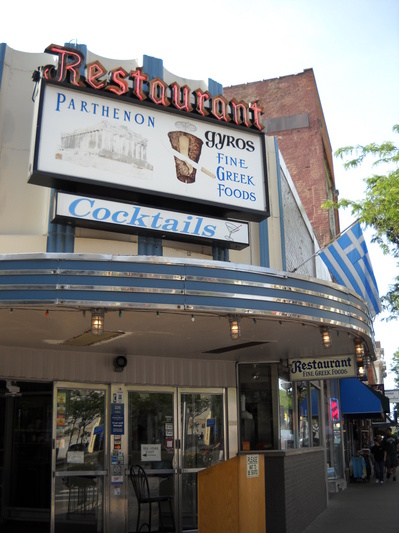 Jessica Levine I Contributor
The 4,000-square-foot Parthenon Restaurant, which is owned by
John
and
Steve Gavas
, was listed for sale for $650,000. Ann Arbor-based
Curtis Commercial
owns the building on the corner of Main and Liberty streets.
The listing markets the space as an "oustanding Ann Arbor restaurant location." It includes the first-level, and 4,000 square feet of "unfinished" space in the basement, which can be used to create a bi-level restaurant and club.
"We are very pleased about this as owners," said Jim Curtis of Curtis Commercial. "We as building owners, Cafe Habana owners and Parthenon owners are all online and very pleased about this."
Steve Gavas declined to immediately comment about the sale, except to thank the restaurant's loyal customers.
Curtis Commercial called Parthenon an "exceptional tenant" in a news release sent out Monday evening.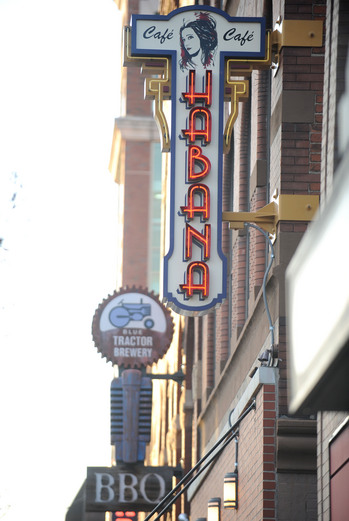 Angela Cesere | AnnArbor.com
"We and the community will miss their restaurant at this prime location downtown," according to the release.
"[The new owners] have exciting new plans to transform the restaurant to house the new location of Cafe Habana."
In early January, business partners Greg Lobdell and Jon Carlson announced they would expand Blue Tractor into the Cafe Habana space and move Cafe Habana to an undisclosed location downtown that would reopen in summer 2012.
Lobdell and Carlson, along with operating partner Dan Glazer and other investors, opened Cafe Habana in 2007. A year later, they opened the Blue Tractor barbeque and brewery next door.
Other ventures they're involved with: Ann Arbor's Grizzly Peak and Jolly Pumpkin; Traverse City's Mission Table, North Peak Brewing Company, Kilkenny's Irish Pub, Blue Tractor, Jolly Pumpkin and Bastone Brewery; and Royal Oak's Vinotecca.
Carlson told AnnArbor.com in early January that the new Cafe Habana location will be "completely new."
"It won't be a cookie-cutter move like Cafe Habana just switched to a new location…It's a way better space for salsa nights and will be unreal for dancing in general," he said.
He continued, "We want to take the best of what we've done before and take a lot of new ideas to improve upon it to give people a new experience."
Both Blue Tractor and Cafe Habana will get enhanced menus, and they plan to collectively hire 80 to 100 new employees for the expanded restaurants.
The Cafe Habana Cellar Lounge remains open in the basement of Blue Tractor, and it will get a new concept once Cafe Habana opens on Main Street.
The Parthenon Restaurant is still open, and a closing date has yet to be announced. Lobdell and Carlson said they hope to complete renovations on the space and open Cafe Habana in summer 2012.
Lizzy Alfs is a business reporter for AnnArbor.com. Reach her at 734-623-2584 or email her at lizzyalfs@annarbor.com. Follow her on Twitter at http://twitter.com/lizzyalfs.