Posted on
Mon, Mar 12, 2012 : 2:59 p.m.
What's next for closing Michigan Book & Supply in downtown Ann Arbor?
By Paula Gardner
(See related story: Michigan Book & Supply, two Ypsilanti bookstores to close as result of bankruptcy)
News that Michigan Book & Supply will close its store on South State Street in Ann Arbor - just steps from the University of Michigan - presents a tremendous opportunity for downtown, commercial real estate agents said Monday.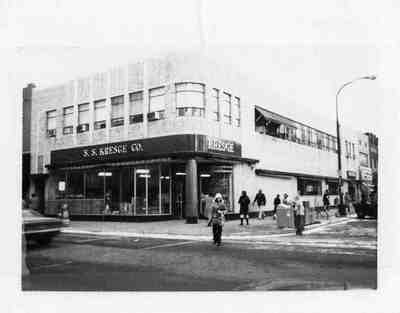 Ann Arbor District Library archives
"It's a spectacular corner," said Mike Giraud of Swisher Commercial in Ann Arbor. "I don't think they're going to have any trouble finding a tenant for it."
Yet that leaves a question for Ann Arbor: What type of business - or businesses - will stake a claim next to the northern end of U-M's Diag?
The first pick of the owner, Hogarth Management LLC, would be a single, non-restaurant tenant. However, consideration from restaurants and businesses that require a smaller space - and subdivision of the store - will be considered, said property manager Bob Gates of First Martin Corp.
"The owner has a strong preference, if possible, to lease the entire building to a single user," Gates said.
The two-story building also has a basement that MB&S uses for textbook sales. Each level has about 6,000 square feet of usable space, and there's an elevator.
The previous occupant was S.S. Kresge, which operated one of its discount variety stories for many years into the 1980s. Michigan Book & Supply's lease began on July 1, 1989, Gates said.
The location at the "top" of the Diag gives the property a unique prominence even among the blocks of South State Street that continue to emerge as the most vital - and expensive - commercial real estate in the city.
Rental rates are climbing above the $40 per square foot as ground-floor spaces turn over, said Deb Pearson, leasing agent for the Oxford Cos., which owns and manages several South State buildings between North University and East Washington.
"I won't be surprised to see rents going up to $45 (per square foot) down here," she said.
Many of the newer tenants are restaurants, like Five Guys. But a newer CVS Pharmacy and 7-Eleven also mingle amid a relocated Get Your Game On and clothing retailer Pitaya.
Retaining elements of the traditional retail mix is important not just to Hogarth: It's been a goal of Oxford, too, Pearson said.
"We feel responsible for keeping (retail) diversity down here," Pearson said.
To that end, rental rates for retailers likely would end up less than for a restaurant. At the same time, there would be less wear and tear on the building, and it likely would require a less-extensive build-out.
Gates said he doesn't have an initial asking rental rate, since it'll depend on the end-user and the terms.
The effort to find a single tenant that can effectively use the second level of the building could be a challenge, some real estate brokers said.
There are some successes with second levels in the South State blocks: Sava makes use of a loft space, while M-Den, Noodle & Company and CVS all use the 2nd floors of their buildings.
But it also presents a challenge for a retailer needing 12,000 square feet that typically operates on a single level, like Urban Outfitters: Effectively using all of the space to drive the sales to support the rental rate.
"Big retailers want (to pay) 8 percent of their gross to rent," said Jim Chaconas of Colliers in Ann Arbor. "That's a big gross. You have to do sales of $300- to $400 per square foot in sales to justify it."
The opportunity to lease the soon-to-be-former bookstore also comes at a time when there are other retail opportunities nearby. They including the former Borders store on East Liberty and the new Zaragon West building on East William.
But neither have the same proximity to The Diag: "It's such a critical spot right there," Pearson said. "It's probably the best location on Central Campus."
The building is assessed at $2.06 million, giving it an estimated market value of $4.1 million. It's included in the South State Historic District.
Hogarth is owned by the Borders family, with Tom Borders listed on bankruptcy documents as the contact. He is co-founder of Borders Books & Music, which closed after bankruptcy in 2011.
Paula Gardner is News Director of AnnArbor.com. She can be reached by email or followed on Twitter.