Posted on
Sun, Mar 18, 2012 : 5:59 a.m.
Ann Arbor marketing firm expanding into 1860s-era Victorian home
By Sven Gustafson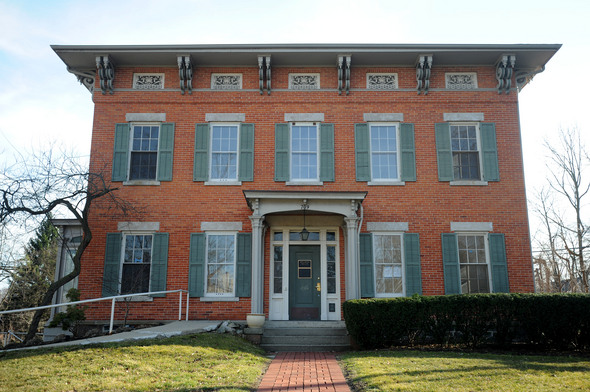 Angela J. Cesere | AnnArbor.com
An Ann Arbor digital marketing firm that has quietly lent its talents to several popular
Super Bowl
ads is undertaking perhaps its highest profile project yet as it prepares to move into a fully restored Victorian home that dates to the Civil War era.
Intersect Digital founder and Chief Executive Kraig Rasche purchased the 6,200-square-foot home at 709 W. Huron St. in January for $707,000. He plans to move his firm into the building as early as April 1.
The two-story, wood-frame brick home was built in 1865, city records show. The home last underwent major remodeling in 1955, and Rasche said he believes it has housed commercial businesses since at least the 1970s.
"What we're doing is taking it back to its original condition," Rasche said. "We're restoring it to its original floor plan and refurbishing everything back to the period of the 1860s."
Workers have already completed inspections for electrical, demolition work, plumbing and HVAC systems and were expected to have completed final rough inspections.
"We're going so far as right down to the doorknobs, the hinges on the doors, the intent is to have everything back to its original condition," Rasche said. "In fact, there's already quite a bit of history still in there, so there are quite a few original doors with original hinges. These are literally porcelain knobs."
The home also features hardwood floors throughout, except for the bathrooms, where workers are installing Victorian tile. The trim and molding are all original oak and remain in good shape, Rasche said.
He also plans to paint only with colors available during the Victorian era.
"They were pretty bold colors in fact," Rasche said. "They're reds and oranges and blues and greens. They're not shiny, I guess they didn't have the technology to put a sheen in the paint, so they're a little muted if you will, but they're bright and bold colors."
Intersect Digital has mostly flown beneath the radar during its time in business, which is just how Rasche, an entrepreneur who previously owned an automotive engineering company, likes it.
Now in its 12th year of doing business, the company, which started its life as Sagient, designs Flash banner ads, Facebook apps, websites, games, mobile and email campaigns and other digital promotions for advertising agencies.
Samples of the company's work include campaigns for brands like RadioShack, Crocs, Columbia Sportswear and Toyota on behalf of clients including Saatchi & Saatchi, McCann Worldgroup and Anchor Bay Entertainment.
Citing competitors and non-disclosure agreements with clients, Rasche declined to discuss annual revenue, how much he's spending on renovation work, the specific Super Bowl ads the firm worked on (he said only they were among the "most popular" and "most brand-recognized" commercials during last month's game) or how many people he employs. The company is currently housed at the Allmendinger Building at 130 S. First Street.
"We'll be moving on the order of 20 people over to the new building," he said. "We have people scattered around the country in various locations as well."
But Rasche, 47, said his company is growing and has been profitable year over year and is benefiting from the larger shift in advertising. Online ad spending is growing by double digits and is on course to overtake spending on ads for magazines and newspapers this year for the first time, according to a recent forecast by eMarketer.
"It's still a young enough industry that… there aren't a lot of resources out there that have the experience," Rasche said. "So if you're an ad agency and you're transitioning from TV, radio and print, you may have a hard time finding qualified resources."
The company will take "great pains" to keep its technology infrastructure needs hidden among the home's historical amenities, Rasche said.
The home was previously owned by 709 W. Huron LLC and Richard W. Pierce, an immigration attorney who had owned the building since 1995. It was given an assessed value this year of $296,500, down from $333,100 in 2009.
Grant Bruce of Signature Associates represented Rasche Holdings LLC in the purchase.
• Contact freelancer Sven Gustafson at sventg123(at)gmail(dot)com, or follow him on Twitter.