Posted on
Tue, Jun 11, 2013 : 10:42 a.m.
C.S. Mott Children's Hospital maintains solid position among top institutions in new rankings
By Amy Biolchini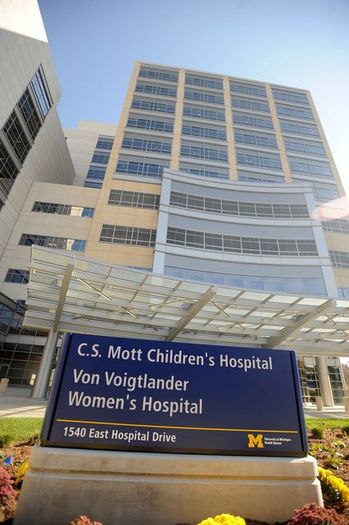 Angela J. Cesere | AnnArbor.com file photo
The
University of Michigan Health System
's
C.S. Mott Children's Hospital
has once again
maintained its position
among the top facilities in the country, according to a new ranking of top children's hospitals released Tuesday morning by
U.S. News & World Report.
The 2013-14 Best Children's Hospitals report ranks hospitals across the country in 10 specialties after surveying 178 pediatric facilities.
UMHS opened the new $754 million C.S. Mott Children's Hospital to patients in December 2011. The 1.1-million-square-foot facility doubled the size of the former Mott Hospital.
Earlier this year, Parents magazine named the facility among the top 10 pediatric hospitals in the country.
In the new U.S. News rankings, C.S. Mott Hospital has received a ranking in the top 50 facilities for each of the 10 specialties, and is the only hospital in Michigan to be ranked in all 10 specialties:
Cancer: 37th (2012-13: 46th; 2011-12: 31st; 2010-11: 25th)
Cardiology & Heart Surgery: 6th (2012-13: 4th; 2011-12: 3rd; 2010-11: 4th)
Diabetes & Endocrinology: 21st (2012-13: 17th; 2011-12: 22nd; 2010-11: 26th)
Gastroenterology: 30th (2012-13: 37th; 2011-12: 25th)
Neonatology: 42th (2012-13 24th; 2011-12: 18th; 2010-11: 22nd)
Nephrology: 20th (2012-13: 32nd; 2011-12: 20th; 2010-11: 19th)
Neurology & Neurosurgery: 30th (2012-13: 21st; 2011-12: 27th)
Orthopedics: 33rd (2012-13: 14th; 2011-12: 13th; 2010-11: 13th)
Pulmonology: 22nd (2012-13: 34th; 2011-12: 21st; 2010-11: 22nd)
Urology: 20th (2012-13: 41st; 2011-12: 20th; 2010-11: 28th)
"We are extremely proud that we continue to get high rankings from U.S. News & World Report for the tremendous care we provide to our patients and families at C.S. Mott Children's Hospital," said Dr. Ora Pescovitz, CEO of UMHS, in a statement. "We strive for an ideal patient care experience, so it's wonderful to receive recognition for our efforts and to be ranked year after year among the nation's best in all the specialties."
U.S. News & World Report surveys the hospitals that it ranks by obtaining data on factors including the availability of key resources and the hospital's ability to prevent complications and infections.
The hospital data consists of about 75 percent of the ranking, while a separate survey of 1,500 pediatric specialists makes up the remaining 25 percent.
Amy Biolchini covers Washtenaw County, health and environmental issues for AnnArbor.com. Reach her at (734) 623-2552, amybiolchini@annarbor.com or on Twitter.