Posted on
Wed, Sep 12, 2012 : 11:03 a.m.
Demolition of former Enzo's Sports Bar in Ann Arbor makes way for new Tim Hortons
By Lizzy Alfs
The former Enzo's Sports Bar on the corner of State and Ellsworth roads in Ann Arbor was leveled on Tuesday to prepare the site for a new tenant: Tim Hortons.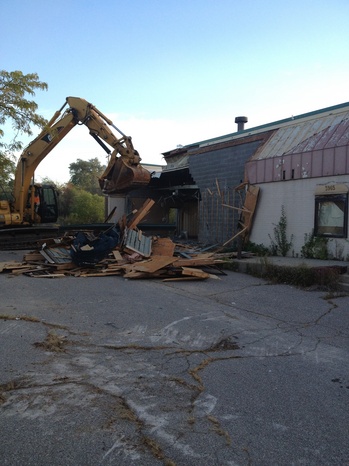 Photo courtesy of First Martin Corp.
The vacant 9,558-square-foot building, located at 3965 S. State St., was demolished and a 1,953-square-foot Tim Hortons will be constructed in the coming months.
The plans, approved in April, include drive-thru facilities, a parking lot with 21 parking spaces and four bicycle hoops.
It will also leave the property owner, First Martin Corp., with room to build a second retail building on that site.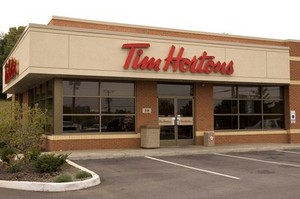 Photo courtesy of Tim Hortons
Since Aug. 2011, the Ontario-based coffee shop chain has been rapidly expanding its southeast Michigan footprint, with plans to open six new stores in Washtenaw County.
Including its existing stores on Michigan Avenue in Ypsilanti Township and Michigan Avenue in Saline, Tim Hortons plans to open in the following locations:
In the revamped Shell gas station on Ann Arbor-Saline Road.
A vacant lot at the corner of Hewitt Road and Washtenaw Avenue in Ypsilanti Township.
Near the corner of James L. Hart Parkway and Huron Street in Ypsilanti Township, just south of Interstate 94.
The chain also signed a deal in April 2011 to open at the site of the former Golden Chef Restaurant in Ann Arbor's Maple Village, but no plans have been submitted to the city of Ann Arbor yet. A Tim Hortons representative could not be reached for comment for an update.
As of April 1, Tim Hortons operated 4,042 stores and employed 2,288 full-time workers. The company was valued at $7.95 billion based on a Wednesday stock price of $51.29.
Lizzy Alfs is a business reporter for AnnArbor.com. Reach her at 734-623-2584 or email her at lizzyalfs@annarbor.com. Follow her on Twitter at http://twitter.com/lizzyalfs.