Posted on
Tue, Jun 21, 2011 : 2:58 p.m.
Developer has Fox Tent property on Ann Arbor's South Main Street under contract
By Paula Gardner
A block in the southern gateway to downtown Ann Arbor is under contract for a new development, the potential buyer of the former Fox Tent & Awning property confirmed.
Dan Ketelaar, one of the original developers of the 601 Forest student high-rise on South University, said he is "looking at various options right now" for the property at 618 S. Main.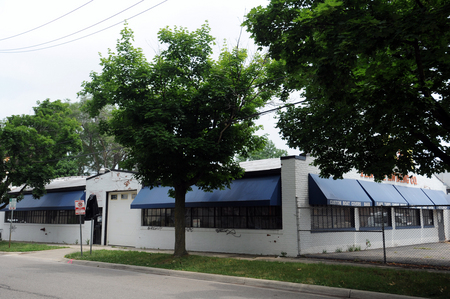 Melanie Maxwell | AnnArbor.com
Unclear so far is what he envisions building on the land, which spans most of a city block with frontage on South Main and bordering a single family row of homes to the west.
It's now under the city's D-2 zoning, which would allow a higher-density, mixed-use building up to 5 stories.
"I'm not interested in talking about it yet," Ketelaar said, "… until we get further along."
City officials said they had conversations with Ketelaar in late 2010, but there has been no site plan submitted.
"No one here has had specific conversations with anyone for at least 6 months on the Fox Tent & Awning site," said Wendy Rampson, city planning director.
The property was listed - without an asking price - at the beginning of the year. The business also was listed for sale, but it was purchased by Delux Tents and Events.
The property is close to 1 acre and it spans most of the block bordered by South Main, West Mosely and South Ashley. It's across South Main from the South Main Market and located between the heart of downtown Ann Arbor and Michigan Stadium.
Co-listing agent Larry Zahn of Anchorage Realty in Ann Arbor said at the time of the listing that it had the potential to drive larger-scale development on South Main Street.
Doug Ziesemer, co-listing agent at Anchorage, said the property attracted attention from a number of potential buyers before it went under contract to Ketelaar in mid-March.
"We had a lot of interest in the property, both from local developers and from developers from outside of the area," Ziesemer said.
He added: "There really hasn't been a good piece of property to come available on Main" since the former Greek Church on North Main.
Ziesemer said details on the project would be released by Ketelaar as the process continues.
"It's in an extended due-diligence period," he said.
Information on the deal's contingencies or the duration of the contract were not available. Ketelaar would not say when he expects to unveil plans to neighbors and the 3 commercial tenants remaining on the site.
Despite the property's proximity to Allen Creek, Ziesemer said it's neither in the floodplain nor floodway.