Posted on
Wed, May 19, 2010 : 6:09 a.m.
Developers eye Kline's lot for 12-story downtown Ann Arbor mixed-use project
By Paula Gardner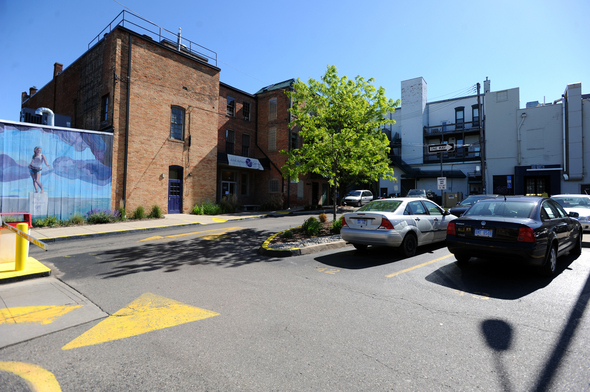 Lon Horwedel | AnnArbor.com
A concept for a 500,000-square-foot, mixed-use development in downtown Ann Arbor would incorporate two city-owned lots and a public-private partnership to bring a hotel, conference center and new retail space to South Ashley Street.
No proposal has been submitted to the city, but developer Ron Jona said he hopes to finalize the concept and present it to the community by mid-summer.
As envisioned by Jona and his development team, the project - called "Ashley Promenade" - would be centered on Kline's lot, now operated as a 140-space parking lot on the east side of South Ashley between Liberty and William streets.
The city lot at First and William streets also would be a part of the project, developers said, since they're trying to incorporate new downtown parks into the conceptual plans. So would nearby properties on Ashley, with the various sites united in the single planning vision.
"We're moving towards a mixed-use development that would incorporate retail, office, hotel, conference center and parking, with lots of parks and public improvements," said Jona.
The "anchor" of the concept is a 12-story hotel. Other components include a conference center of about 80,000 square feet and underground parking, both of which could involve a public partnership, Jona said.
Further details were not available, Jona said, until the plans gel.
Jona, a Southfield-based architect, said he's planner and developer for the concept. He and Ann Arbor-based real estate consultant William Eddy have been working on it for about two years, they said.
The pair continues to work on their feasibility study for the project, they said. Part of that includes procuring undisclosed nearby property.
They also seek commitments from potential tenants, and have a letter of intent from Hyatt Corp., Jona said.
As they finalize the vision for the property, they hope to see Ann Arbor start a "request for proposals" process for a developer to acquire the city-owned properties in their plan this year.
Over the last few months, Jona and Eddy have presented conceptual drawings and their vision for the property to some of the city's business and government leaders.
Among them was City Councilman Stephen Rapundalo, who said he saw early versions of the concept.
"Clearly it's predicated on them acquiring the lot of the city," Rapundalo said. To do that, he said, there "would have to be some sort of public bid process."
The city has three pending projects for city-owned land: The Library Lot on South Fifth Avenue, property at 415 W. Washington St. and the site of a demolished parking deck at First and Washington streets.
City Administrator Roger Fraser said officials will re-engage with the two finalists for the library lot development - Valiant and Acquest, both of which seek to build a hotel on the site - by June after the city's annual budget is finalized.
Site plans for First and Washington, approved for an apartment project by Village Green, will expire June 30. And no decision has been made on 415 W. Washington.
Meanwhile, in 2005, the Kline's lot and the property at First and William were identified by the Downtown Development Authority as two parts of a "3-site plan" to encourage downtown development on city-owned property. The vision for the Kline's lot called for "ground floor retail, small amount of office, market-rate housing, and underground parking to support the project." It was not pursued.
Yet city officials say they're ready to hear ideas for city-owned sites.
"We're always looking for the opportunities to do development in the downtown," said Fraser, who talked with the Ashley Promenade developers in 2009. "We've been talking for years about increased density. We're willing to explore different ideas."
Rapundalo stressed that the process needs to be open as any development proceeds. But he also said the Ashley Promenade effort - which he described as the product of "a considerable amount of thought" and analysis - appeared to be worth the city's consideration.
"It's an intriguing idea, and we're just going to have to wait and see what they (present)," Rapundalo said.
Mayor John Hieftje, who said he hasn't seen Jona's plans, said moving forward on the Kline's lot "would involve extensive community conversation."
Part of that, he said, would be controlling the risk factors for the city in any potential development.
"I have no ideas about the wisdom of (building) a conference center," Hieftje said. "As we've said in the past about proposals for the Library Lot, (we're) not interested in putting the city at any risk for that.
"If something is going to happen on city property, I think cty taxpayers deserve a good return for that."
That fits with the vision of Jona and Eddy, they said. As the details of the concept turn into specific plans, they said they'll look for community input and emphasize citywide benefits to downtown development.
"This is a community project," Eddy said. "… We hope to make this a draw to
Ann Arbor."
Paula Gardner is Business News Director of AnnArbor.com. Contact her at 734-623-2586 or by email. Sign up for the weekly Business Review newsletter, distributed every Thursday, here.