Posted on
Wed, Dec 16, 2009 : 10:45 a.m.
Ann Arbor's Domino's Pizza changes core pizza recipe
By Nathan Bomey
Ann Arbor-based Domino's Pizza is fundamentally altering its core pizza recipe, a bold but risky move meant to position the chain to navigate the competitive terrain of the dining industry.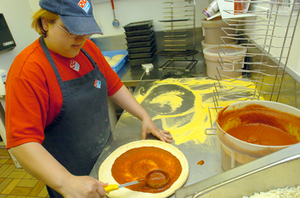 "This is not a slight tweak. We changed everything on our pizza from the crust up," Domino's USA President J. Patrick Doyle told AnnArbor.com. "We changed the crust, we changed the sauce, we changed the cheese."
The new pizza is already available at the chain's Ann Arbor stores. The pizza - which is available nationwide starting Dec. 27, just before the end of its fiscal year on Dec. 28 - reflects several key changes:
• A "garlic seasoned crust with parsley baked to a golden brown," the company said.
• A "sweeter, bolder tomato sauce with a medley of herbs and a red pepper kick." Doyle said the new sauce has 40 percent more herbs.

• Mozzarella cheese "flavored with just a hint of provolone." It'll be shredded instead of diced.

The reinvention of its core pizza recipe comes as Domino's [NYSE: DPZ] approaches its 50th anniversary in 2010.
The new pizza is sure to be met with intense scrutiny by consumers and pizza aficionados alike. Domino's said that it would simultaneously launch a major marketing campaign that would seek to counteract the "negative perceptions of some consumers nationwide" about Domino's main product.
Doyle said the company conducted extensive consumer testing to ensure that the product was high quality. The firm also monitored social media Web sites and influential bloggers to tailor changes.

"I'm excited, not nervous," he said. "We have done an unbelievable amount of consumer research over the past 2 years."
Doyle said Domino's research showed that the percentage of consumers who said they would "definitely purchase this pizza in the future" improved 25 percent with the new product.
"That's a landslide in the market research world," he said. "It's unheard of. We're absolutely convinced we've got it right."

To incentivize consumers to give the new pizza a try, the company plans to offer a special deal when it's introduced: 2 medium, 2-topping pizzas for $5.99 apiece.
Domino's spent 2 years testing "dozens of cheeses, 15 sauces, and nearly 50 crust seasoning blends and researched every possible combination with customers who order from us all the time and customers who haven't tried us in years," Chief Marketing Officer Russell Weiner said in a statement.
Reinventing a core product comes with significant risk.

"To us, it's as big as McDonald's changing the Big Mac, or Burger King reinventing the Whopper," Weiner said.
Doyle said Domino's understood that some consumers would react negatively to change.
"There are people who really liked the old product," he said. "We just looked at it, though, and said, 'We don't have enough people who loved the pizza and we've got to get it there.' We said as a simple goal, 'We're going to have the best pizza in the industry.' That was the standard."

In the last 2 weeks, Domino's has spent 200,000 hours retraining workers at all 5,000 of its U.S. stores.

Domino's CEO David Brandon said in a statement that the new pizza marks the firm's "biggest product introduction we've done since...well, pizza."
Domino's operates about 8,886 corporate and franchised stores, and it employs about 10,500 full-time workers. With stock selling at $7.82 per share this morning, its market capitalization is about $457 million. In the third quarter, Domino's same-store sales were relatively flat as the company's profit rose from $10.1 million in the third quarter of 2008 to $17.8 million.

Contact AnnArbor.com's Nathan Bomey at (734) 623-2587 or nathanbomey@annarbor.com. You can also follow him on Twitter.