Posted on
Thu, Feb 28, 2013 : 9:28 a.m.
Domino's Pizza reports $112 million net income in 2012
By Lizzy Alfs
Global chain Domino's Pizza's net income grew 6.6 percent from its 2011 fiscal year to its 2012 fiscal year, according to an earnings report released Thursday morning.
The Ann Arbor Township-based company reported a net income of $112.4 million in 2012, compared to $105.4 million in 2011. Domino's reported earnings-per-share for the full year of $1.91.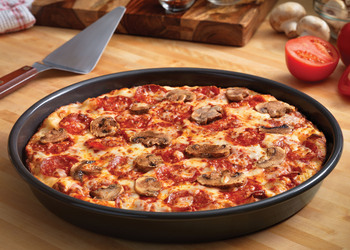 Courtesy photo
"Our performance in 2012 was yet another example of the consistent results we have delivered to our shareholders," said Domino's CEO Patrick Doyle in a statement. "Our strong global brand is driving a robust record of same store sales growth, new store openings and technological innovation that is building our business globally."
Thanks to higher same store sales and store count growth in international markets, Domino's reported a fourth quarter net income of $37.6 million, compared to $30.9 million a year prior. The company's domestic same store sales grew 3.1 percent over 2011. During the fourth quarter, domestic same store sales grew 4.7 percent over the same period in 2011.
The company's 2012 fiscal year marked significant growth for its international division; for the first time in Domino's Pizza's history, international store counts exceeded U.S. stores. According to the earnings report, international same store sales grew 5.2 percent in 2012 over 2011.
The company also experienced global net store growth of 513 stores in 2012, led by a record 492 net new stores internationally. There are now more than 10,200 corporate-owned and franchised Domino's stores in over 70 international markets.
Domino's Pizza's profits have soared since the company introduced a completely redesigned pizza recipe in late 2009. The changes took the company from flat same-store sales and store closures to record profits and store count growth.
Since the pizza redesign, Domino's has continued to roll out a series of menu changes and it continues to grow its online business. A third of the company's business now comes from digital orders, Doyle told AnnArbor.com recently.
Doyle also announced plans to remodel Domino's Pizza's stores to include open kitchens and more interactive features. A new store on Plymouth Road in Ann Arbor is one of the first Domino's locations to feature the redesign.
Domino's executives will discuss the earnings report on a call with investors at 11 a.m. Shares of Domino's Pizza (NYSE: DPZ) opened at $46.83 on Thursday.
Lizzy Alfs is a business reporter for AnnArbor.com. Reach her at 734-623-2584 or email her at lizzyalfs@annarbor.com. Follow her on Twitter at http://twitter.com/lizzyalfs.