Posted on
Mon, Aug 8, 2011 : 11:37 a.m.
Domino's Pizza revives 'the Noid' on cartoon character's 25th birthday
By Nathan Bomey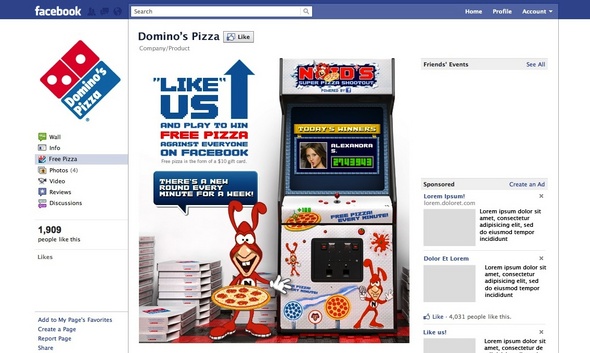 Photo courtesy of Domino's Pizza
A polarizing, long-eared red mascot that
Domino's Pizza
used in its marketing in the 1980s is back.
The Ann Arbor Township-based pizza chain said today that it would feature the NOID in a one-week promotion through its Facebook page.
The mascot was "a cartoon character of indeterminate species, never really talking but always laughing wickedly as he sent thunderstorms to bedevil Domino's pizza deliverers or bounced around on a pogo stick to try to flatten a cheese pie," the Associated Press reported.
Domino's said in a statement that the promotion, called "Avoid the NOID," would give fans a chance to play an 8-bit-style Facebook game for a chance to win a gift card.
The NOID, it turns out, was created in 1986 — making 2011 its 25th anniversary.
"Or is it his?" Domino's asks, coyly, in its press release.
"Being 25 is pretty cool. I believe I can legally rent a car now," the NOID "said" in a statement. "While I am old enough that some people consider me 'vintage' — I've still got skills, and proved it by stealing 10,080 free pizza gift cards from Domino's."
It's the latest in a series of nontraditional marketing campaigns for Domino's, which has had huge success with commercials acknowledging that its previous pizza wasn't good enough, prompting a total redesign.
For a history lesson, watch this commercial from 1988 in which the NOID tries to destroy a Domino's pizza with liquid nitrogen.
Contact AnnArbor.com's Nathan Bomey at (734) 623-2587 or nathanbomey@annarbor.com. You can also follow him on Twitter or subscribe to AnnArbor.com's newsletters.