Posted on
Fri, Jul 20, 2012 : 2:27 p.m.
Downtown Ann Arbor's Frita Batidos restaurant closed for improvement projects
By Lizzy Alfs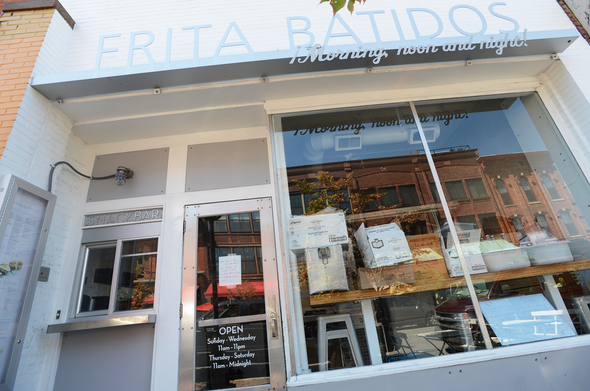 Melanie Maxwell | AnnArbor.com
Frita Batidos
, a year-and-a-half old restaurant on East Washington Street in downtown Ann Arbor, is getting a facelift this week.
Owner Eve Aronoff said the improvements — which closed the restaurant on Monday — will make Frita's a more enjoyable experience for customers. She said it will hopefully reopen July 23.
Melanie Maxwell | AnnArbor.com
"We are doing all the things we realized over the past year that we want and need to do to make things better," she said.
That includes: installing a new kitchen floor, putting in an additional checkout terminal and moving the 'Batido' production to the front counter.
Batidos, a popular staple on the restaurant's menu, are tropical milkshakes.
"We got a bunch of state-of-the-art silent blenders," she said. "Batidos have historically taken a bit longer than we would like (to make), so we're going to be able to take that burden out of the kitchen so drinks can come out fast."
She said all of the improvement projects — about 20 in all — are geared at expediting the customer experience.
"A lot of it is just organization," she said. "Everything is geared to make sure the quality is consistent and expedite the whole process because that's been our challenge: getting something we want to be special and made from scratch to come out quickly."
She said the Ann Arbor Art Fair presented the perfect opportunity to close her business for a week.
"(The Art Fair) has been a little quieter time for us," she said. "People milling around outside can go to the vendors. We figured it was a good time."
For updates on the project and the restaurant's official reopening date, check Frita Batidos' Facebook page.
Lizzy Alfs is a business reporter for AnnArbor.com. Reach her at 734-623-2584 or email her at lizzyalfs@annarbor.com. Follow her on Twitter at http://twitter.com/lizzyalfs.