Posted on
Fri, Mar 23, 2012 : 5:59 a.m.
DTE Energy presses ahead with smart meters as state investigation continues
By Nathan Bomey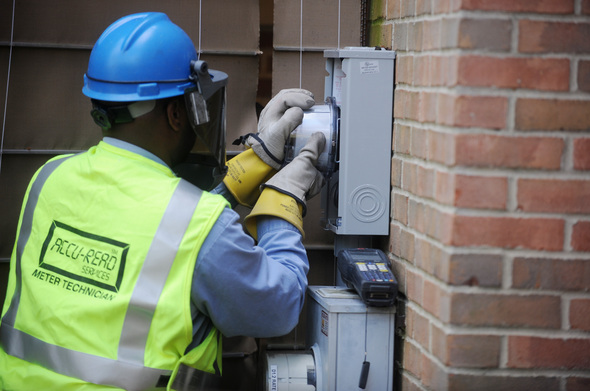 Melanie Maxwell I AnnArbor.com
(Related story: Smart meter installation: What Washtenaw County residents need to know)
DTE Energy's decision to install advanced electric meters at nearly every Washtenaw County home comes as the Michigan Public Service Commission continues its statewide investigation into the health and cost implications of the devices.
The so-called "smart" meters — which wirelessly distribute information about electricity consumption — allow the Detroit-based utility to remotely monitor power outages and allow customers to track their usage.
DTE in February launched a plan to install smart meters at 120,000 homes throughout the county, including Ann Arbor, Saline, Ypsilanti, Chelsea, Dexter and the townships. Washtenaw County has about 134,161 households, according to recent U.S. Census data.
"These meters have the ability to tell us when they've lost power as well as when the power's been restored," said Bob Sitkauskas, manager of the advanced metering infrastructure project for DTE. He said the meters, which capture usage data digitally, would expedite the process of power restoration after storms.
The meters also give consumers the ability — through a free online account — to monitor their hour-by-hour electricity usage on the day after the power is used. Smart meter advocates say the devices lower energy usage by providing more information to consumers about their power consumption.
Crews have already started installing the meters at homes in Ann Arbor, Ypsilanti and Ypsilanti Township. DTE is absorbing the cost of installation. Smart meters are being installed on electric meters, while natural gas meters will simply get a "module" that allows wireless data distribution.
The move has dredged up concerns among smart meter skeptics, who have filed a steady stream of complaints with the Michigan Public Service Commission.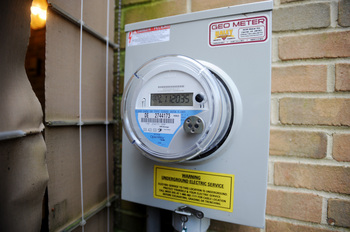 Melanie Maxwell | AnnArbor.com
The commission in January opened an investigation into smart meter installation by regulated utilities throughout Michigan, including DTE, the state's largest electricity provider.
The investigation includes an examination of the safety of smart meters, whether any consumer information will be inappropriately collected and whether the smart meters lead to price increases for consumers.
Judy Palnau, a spokeswoman for the MPSC, said the commission launched the investigation in part "because of the number of inquiries from individuals, plus a number of municipalities throughout Michigan have passed resolutions asking the commission to look into this."
Among the concerned citizens is Ann Arbor retiree Rebecca Morr, who said in an email that she began to feel "jittery" and experienced "a buzzing vibration in my head" after crews installed a smart meter at her Gloucester Way home on March 10.
"I really am concerned about people who may be more at risk for problems: the elderly, people with prior conditions, people like me who already have sensitivities, and especially for children," Morr said in the email.
DTE's Detroit Edison unit, working with a contractor, is installing meters manufactured by Liberty Lake, Wash.-based Itron Inc., which filed a report March 16 with the Michigan Public Service Commission concluding that the meters generate an "extremely low level" of radiofrequency emissions compared to legal limits.
The report, compiled by Itron product line manager Mike Belanger, uses a formula sanctioned by the Federal Communications Commission to conclude that the smart meters produce radiofrequency emissions ranging up to 0.833 percent of the FCC limit.
A report released in February by the Vermont Department of Health based on "actual measurements at active smart meters" found that the devices "emit no more than a small fraction of the (RF) emitted from a wireless phone, even at very close proximity to the meter."
Sitkauskas said smart meters are no different than other common digital devices that transmit radiofrequencies.
"RF waves are around us every day," he said. "You've got remote-controlled TVs, garage door openers, baby phones, cell phones, cordless phones. All those entities have a level of RF."
Morr, recounting her experience after her smart meter was installed, said she began to feel strange sensations after walking to her kitchen sink, which shares a wall with the smart meter on the outside.
Morr said that, as a practitioner of Bikram Yoga, she was checking her blood pressure that day. She said it spiked from 118/72 before the installation to 165/89 afterward, leading her to contact DTE to request the removal of her smart meter.
DTE, in its March 16 message to the MPSC, said that it plans to develop a program allowing customers to opt out of having a smart meter.
But the utility warned that it would seek to charge additional fees to customers who opt out to support the cost of a meter reader and other costs associated with maintaining an analog reader.
DTE meter readers, who are contracted employees, will be gradually phased out as the utility continues to install smart meters throughout the state. DTE said more than 1 million of its customers would have smart meters by the end of 2013.
"The readers themselves - they attrition out about one-third per year because it's an entry-level job and the guys move on," Sitkauskas said. "We don't anticipate any layoffs."
Meanwhile, MPSC is also investigating electricity costs associated with remote reading by smart meters. Some consumers in California, in particular, have accused utilities of raising rates through the installation of smart meters.
Sitkauskas said the meters are 99.7 percent accurate in the most extreme conditions. He said once customers have access to hour-by-hour information regarding their power usage, they're often confused when they realize that they're still using meaningful amounts of electricity even when they're not home or sleeping.
"We will work with the customer if they have any issues to try to make sure there's nothing there," Sitkauskas said. "A lot of it is phantom power. If you look in your room and you see all these green lights from your PCs and TVs, they're all drawing power."
While the smart meter installation continues, the Michigan Public Service Commission is compiling information about the impact of the devices. The deadline for comments from the public is 5 p.m. April 16. Commission staff members plan to develop any appropriate recommendations by June 29. After that, commission members will decide whether to take any action.
Contact AnnArbor.com's Nathan Bomey at (734) 623-2587 or nathanbomey@annarbor.com. You can also follow him on Twitter or subscribe to AnnArbor.com's newsletters.