Posted on
Wed, Mar 7, 2012 : 1:51 p.m.
E-commerce software firm plans Ann Arbor expansion after $5 million venture capital investment
By Nathan Bomey
A software company that recently secured a $5 million venture capital investment is moving its Jackson office to Ann Arbor to capitalize on the local talent pool.
Commerce Guys, which also has an office in France, plans to shift its Michigan operation to Ann Arbor within months and plans to expand the office from 14 to 30 people by the end of the year, said Mike O'Connor, co-founder and president of North America.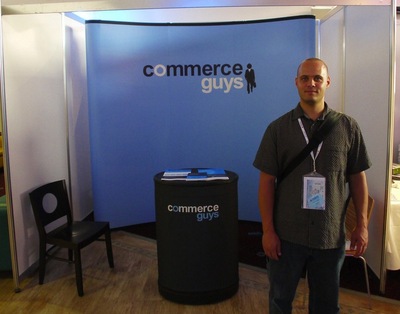 Photo courtesy of Commerce Guys
The company, which has developed a version of an open-source content management system called Drupal for e-commerce applications, reported that the number of websites running its software recently surpassed 10,000.
O'Connor said the company needs software developers to help it maintain its pace of growth — and that the Ann Arbor area offers a better chance than Jackson to recruit that talent.
"We've got a very aggressive growth strategy," O'Connor said. "The e-commerce market is really waiting for a great open-source solution."
He cited the talent generated by the University of Michigan as a key reason for the company's decision to locate here. He also said the company was lured by discussions with economic development group Ann Arbor SPARK about a Michigan Economic Development Corp. program called Shifting Code, which offers computer programming training to individuals looking to make a career transition.
Commerce Guys, officially founded in Jackson in 2008, recently landed $5 million from Paris-based Alven Capital, Finland-based Open Ocean Capital and Paris-based ISAI, which invested $1 million in 2010.
The company has 37 employees split between its Paris and Michigan offices.
Commerce Guys executives said they've already toured vacant offices in the Briarwood Mall area. O'Connor said the company would likely sign a lease for a space in the "I-94 corridor" because it's accessible from the Jackson area, where most of its employees live.
Commerce Guys has leveraged an open-source platform — that is, a software program that can be tweaked for free and for commercial purposes — to manage the development of a customizable digital sales system for online products.
O'Connor said the company's software, dubbed Drupal Commerce, is free — but the company gets revenue by charging large users for support services and consulting.
"A lot of times the feedback we get from merchants is they're tired of making business decisions based on what their e-commerce framework can do," O'Connor said. "What we've done is created a really powerful e-commerce framework that enables merchants to deploy stores."
Contact AnnArbor.com's Nathan Bomey at (734) 623-2587 or nathanbomey@annarbor.com. You can also follow him on Twitter or subscribe to AnnArbor.com's newsletters.