Posted on
Mon, Jun 20, 2011 : 5:57 p.m.
Does Obama support Rick Snyder's emergency managers, education reform?
By Nathan Bomey
In the aftermath of Gov. Rick Snyder's decision to give emergency managers more power to address crises in Michigan's distressed public school districts and municipalities, Snyder faced a barrage of criticism.
Activists ranging from the Michigan Education Association to the Michigan Democratic Party to liberal MSNBC commentator Rachel Maddow slammed Snyder and Michigan Republicans, saying the emergency manager legislation dismissed democracy in favor of dictatorial politics.
But it's becoming increasingly clear that Snyder's emergency managers — whose existence has inspired an effort to place the issue on the ballot in 2012 to allow voters to repeal the legislation — have more political support than previously thought.
Exhibit A: Washtenaw County Board of Commissioners Chairman Conan Smith, a Democrat.
Exhibit B: Flint Mayor Dayne Walling, another Democrat.
Exhibit C: President Barack Obama?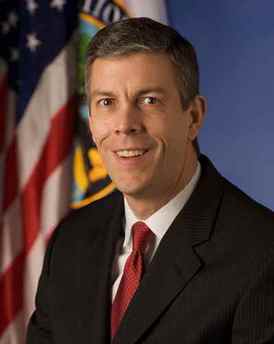 Silly, you say? There's no way that Obama would back Snyder's decision to allow emergency managers to sever union contracts, wrest power away from elected officials and unilaterally reshape budgets and curriculum in the name of fiscal sanity. Right?
Perhaps. But then I ask you this: Why did U.S. Secretary of Education Arne Duncan, an Obama appointee, participate in Snyder's press conference today by satellite, praising Detroit Public Schools emergency manager Roy Roberts' leadership and lauding Snyder's efforts to uproot the "status quo."
Duncan — the third speaker at the press conference, behind Snyder and Roberts — praised the initiative to establish a statewide system to revitalize Michigan's worst public schools by transferring them to a new autonomous authority, requiring teachers to reapply for their jobs and giving principals more authority to make their own decisions.
The new initiative starts with Detroit's approximately 100 failing schools in 2012-13 but it will extend to the other 100 failing schools in Michigan in 2013-14.
"This city has no viable future if the status quo is allowed to stand," Duncan said. "Detroit has the potential to be a model not just for the state, but for the entire country."
Fair enough.
Bad news, though: Without the strengthened emergency manager law, Roberts would find it much harder to make all the changes he wants to make — and that Snyder is supporting.
"I want to be a good partner to folks in Detroit who want to take that school system to a whole new level," Duncan told reporters this morning.
I believe him. Because if he actually opposed the emergency manager powers, he'd basically be opposing Roberts' right to take control of the district, which makes much of these reforms possible.
That's why it was startling to see Duncan post this to his Twitter account after the press conference: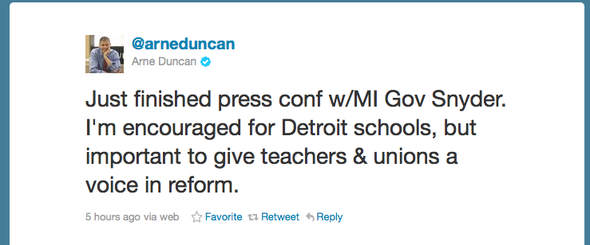 Emphasizing that it's "important to give teachers and unions a voice in reform" is a puzzling caveat to add, considering that under Snyder's new Education Achievement System, teachers at Michigan's 200 failing schools will be fired and forced to reapply for their jobs.
It's always fascinating to watch back-tracking occur in real time through the modern lens of social media.
So I directed my questions to Duncan through the same medium he chose to add his caveat:

Seems like a fair question, right? No answer. So I pressed further:
Still no answer.
So I decided to go the traditional route. I called his communications office in Washington.
I asked Daren Briscoe, deputy press secretary for the U.S. Department of Education, whether Duncan's participation in the press conference means he supports Snyder's emergency managers.
"The way to understand what the secretary was saying was, more so than endorsing that as a specific blueprint, he was expressing his support of thematically what they're doing in Michigan, which is taking urgent action, to remedy a situation that is not serving the students there well," Briscoe said.
Duncan participated in the press conference to endorse "the kind of collaboration that you have to have in a situation like that in order to come to the kind of agreement that they've come to, which involves administrators, parents and teachers," Briscoe said.
Briscoe added: "That's what he was endorsing and praising, was the broader-stroke urgency, collaboration and that sort of thing, rather than line by line" approval of Snyder's reform policies.
That's strange: So, you're publicly supporting a theme of change but the details make you uncomfortable?
I asked Briscoe whether Duncan — which, by extension, means the president of the United States — supports forcing teachers in failing public schools to reapply for their jobs as part of a broader reform initiative.
In situations where schools are "persistently failing," the Department of Education sometimes supports "all of the teachers being fired and principals being fired."
"That's not a blanket description for each school, but that is among the options that the department endorses, given a certain set of circumstances," Briscoe said. "Where you have dramatically underperforming schools, persistently underperforming schools, yeah the department does endorse actions that are both dramatic and urgently needed."
Here's my takeaway: President Obama supports firing teachers when schools are failing — and, if he had a big problem with Snyder's emergency managers, he wouldn't have allowed his education secretary to lend his political clout to an event trumpeting one of the biggest education reform initiatives to sweep through Michigan in decades.
What about you?
If Obama despised Snyder's emergency managers and firing bad teachers, why would he allow a key member of his cabinet to sing the praises of a reform initiative that is partly possible because of Snyder's policies?
Contact AnnArbor.com's Nathan Bomey at (734) 623-2587 or nathanbomey@annarbor.com. You can also follow him on Twitter or subscribe to AnnArbor.com's newsletters.